Arizona is so much more than just the deserts and cactus that many people imagine it is. With multiple lakes, reservoirs, and rivers full of bass, Arizona's warm climate grows these fish to massive sizes and provides excellent habitat for both largemouth and smallmouth bass. Bass fishing in Arizona rivals that of just about any other state, and there are certainly big fish to be caught.
There are plenty of good places to go bass fishing throughout the entire state, but there are definitely certain bodies of water that seem to produce better than others. Here is a quick list of some of the best bass fishing waters found in Arizona.
This website is reader supported. Any purchases you make through links on this site earn us a commission at no additional cost to you. Thank you for your support!
Lake Havasu State Park
Lake Havasu is not only beautiful, but it is a great place to fish for both largemouth and smallmouth bass. Many anglers consider this lake one of the best largemouth lakes in the state, and experts will argue that it is one of the best smallmouth fisheries in the entire country.
This 25-mile long lake has around 450 miles of shoreline, giving anglers plenty of room to get away from the crowds and find where the big bass are hiding.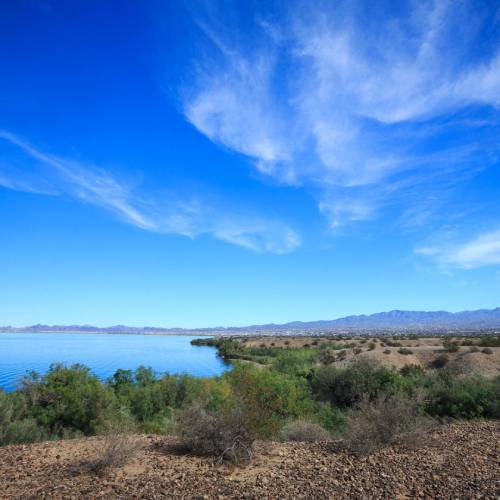 Lake Havasu continually produces some great sized smallmouth, and 4 to 5-pound smallies are not uncommon here. Thanks to Arizona's fish and habitat programs, thousands of brush bundles were dropped throughout the lake in order to improve the habitat of these fish.
These efforts have been well received, as numbers of both smallmouth and largemouth bass are on the rise. 
If you are wanting to fish Lake Havasu, the southern end of the lake is a great place to start. Some popular areas include places like Havasu Springs, Mesquite Cove, and Topok Gorge.
The largemouth will usually be found hanging around cover close to the shoreline, while smallmouth can be found around any rocky structures and near canyon walls. 
Try fishing the Texas Rig around brush piles adn cover. This is one of the best ways to catch fish at Lake Havasu.
Arizona's Black River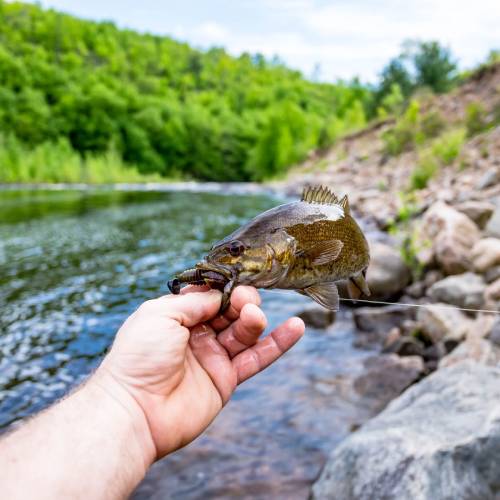 Speaking of smallmouth bass, we cannot go any further in this list without mentioning the best smallmouth bass fishery in the entire state.
The Black River is a long stretch of water that winds its way across central Arizona, and is widely considered by locals to be the best smallmouth bass fishing in the state, and maybe even in the western United States. 
The best smallmouth bass fishing on the Black River is found on the Lower Black River on the San Carlos Apache Reservation. In order to fish here, you will need to purchase a day-use permit that can easily be obtained from local stores and gas stations in the area. The extra cost is well worth it, however, as not only is the fishing excellent but the scenery is amazing. 
Home to trout and smallmouth bass, this river holds amazing populations of both species of fish.
In the spring when temperatures are cooler and the fish are spawning, I have personally been able to catch 100+ fish by using simple spinners. When almost every cast results in a good-sized smallie, you know you are in a great spot!
Roosevelt Lake Arizona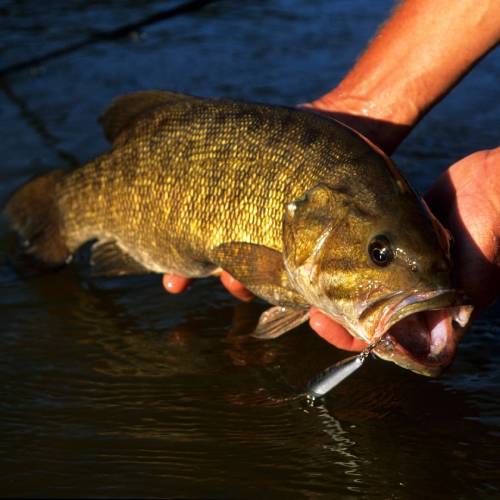 Next on our list is one of Arizona's famous big bass lakes, Roosevelt Lake. This giant lake is located a few hours from the city of Phoenix and is the first lake in the chain of lakes found on the salt river.
The fish here always seem willing to bite, and the excellent habitat combined with the plentiful food helps to grow these largemouth bass into giants. 
The Salt River portion of this lake (where the Salt River drains into the lake) has plenty of big coves, rocky outcroppings, and cliffs where bass can be found.
Try fishing crankbaits around these rocky areas and outcroppings.
The northern part of this section of the lake also has plenty of brushy coves where the bass will move in to spawn. On the opposite end of the lake, a small creek called Tonto Creek drains into the lake. This section of the lake is characterized by submerged trees, stumps, and grass. While it is extremely thick and brushy, some of the biggest fish come out of this section of the lake. 
Roosevelt Lake also has a healthy population of smallmouth bass as well, and they can usually be found in the deeper, cooler waters. No matter your skill level, Roosevelt Lake is one of the best places you can go to catch some bass!
Apache Lake Bass Fishing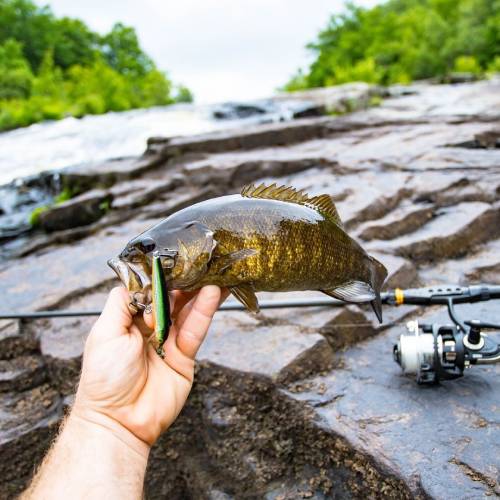 Just below Roosevelt Lake and further down the Salt River you will find Apache Lake. The smaller reservoir is very iconic and scenic, as it is surrounded by canyon walls and cliffs on all sides.
It is one of the harder bass fishing locations to access, but the effort here is well worth it. 
Apache Lake is home to some great largemouth bass thanks to its healthy populations of smaller fish species. Many bass tournaments are held at this lake throughout the year, and there is a smaller population of smallmouth bass in these waters as well.
This lake is probably the best smallmouth bass fishing found on the Salt River chain of lakes, although all of them can be great. 
Apache Lake has recently had its struggles with fish kills due to golden algae blooms. While this has no doubt hurt fish populations, dedicated anglers can still find some giant bass by getting away from the easily accessed areas on this lake and there is still some world-class fishing to be had here. 
Patagonia Lake State Park
Last but certainly not least on our list we have Patagonia Lake. A quick drive from the city of Tucson, this lake is a sleeper for big bass found in Arizona. Although Salt River chain lakes like Roosevelt, Apache, and Canyon get most of the attention, Patagonia can be just as good if not better fishing because of the smaller amount of fishing pressure it receives.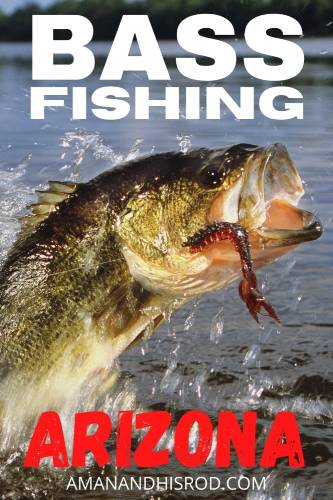 While there is only largemouth bass here nad no smallies, the abundance of baitfish and frogs give these fish plenty to eat to grow big. Coupled with the brushy shoreline and cattail forests, and these bass can avoid predators and anglers in order to grow in size. 
Patagonia Lake is a smaller lake when compared to some of the other places we have already mentioned, but don't let that fool you. At around 250 acres, there is plenty of water available to hide some monster bass, and there are usually much fewer people than at the other big bass locations throughout the state!
Final Thoughts – Bass Fishing Arizona
Arizona is home to some excellent fishing, but there are truly some world-class bass fishing locations for both largemouth and smallmouth bass throughout the state. For an angler that loves catching big fish, this desert paradise might just be the perfect fishing destination!
If you know someone that would like this article please share it with them. Simply click the social icons of your choosing below and tag them. It really mean a lot!
Have any tips that we left off or locations that you like to bass fish in Arizona? Awesome! Leave a comment below and let the community know.