The swimbait revolution can be dated back to the 1980s. Initially, it was widely believed that using larger bodies and exaggerated swimming actions are preferable and yield better results. Most fisherman believed that bigger baits would enable them to catch bigger bass. However, this is not always true.
With time, people have come to realize that it is the small swimbaits that work in most conditions. Most pros believe that smaller profile swimbaits bring better results. Anglers have realized that smaller swimbaits can be relied on, particularly in tough bites.
You might be wondering what a swimbait is exactly. It can be anything made from plastic or hard materials. The sizes vary, and the object can be suspending, floating, or sinking.
Swimbaits can swim or sometimes glide. The purpose of swimbait is to replicate the easy meals for the fish so they would be attracted to it, making it easier for fishers to make a catch.
Anytime your fishing a jerkbait or fishing crankbaits for bass, swimbaits are also in play. As a matter of fact I think seimbaits are in play all year long.
This website is reader supported. Any purchases you make through links on this site earn us a commission at no additional cost to you. Thank you for your support!
The Five Best Small Swimbaits
Let us take a look at some of the best small swimbaits you can use to make your fishing expedition a success.
5. Googan Baits Saucy Swimmer
This swimbait is designed keeping versatility in mind. It manages to stand out from the other options available on the market due to the refined construction that allows it to make a life-like action.
This swimbait undoubtedly works on bass whether you thump it around the grass edges, drag it along the deep cover, or use it in combination with any lure.
The ripped body, along with the perfectly shaped tail of the Googan Baits Saucy Swimmer, ensures that bass comes its way.
The swimbait has been infused with Slaunch sauce, thereby giving it the smell and taste that will trick any predator.
It is available in multiple bass colors and is one of the most reliable options for fishers and anglers, making it worthy of being counted among the best small swimbaits.
4. Zman MinnowZ
This swimbait replicates the look and action of a live minnow, and it is among the best small swimbaits you will find.
It has a fantastic profile as meticulous attention has been paid to its detailing. The thumping paddle tail is an impressive touch.
Made from Elaztech soft plastic, it is more robust compared to soft plastic, ensuring that you get more mileage. It is highly durable, resistant to cuts and tears.
This is indeed a highly productive bait that will make your fishing expedition fun and fruitful.
3. Strike King Rage Swimmer
This is another versatile and attractive swimbait that would be of immense help to all the fishers and anglers.
It is provided with an innovative rib design with enhanced vibration and texture, reflecting on its fish-catching performance.
A thinned-down tail forms part of it that does not fail in action. It is available in a variety of rod-bending colors, and you will be astounded by the effectiveness it has to offer.
2. Keitech Fat Swing Impact
This is another productive swimbait for anglers that can be used in a variety of techniques and situations.
It is a bit thick and yet optimally effective. The beefed-up paddle tail creates a unique swinging action that attracts fish perfectly.
It is made via a unique dual-injection molding process, combining two salted plastics, thereby giving it a well-balanced effect. It is also infused with a heavy dose of squint scent.
Thus, you can be assured that it will not let you down in terms of results.
1. Reaction Innovation Little Dipper
Coming in at number one we have the Reactiokn Innovations Little Dipper. If you have been a member of this blog for any length of time then you have heard me talk about this bait before.
The three and a half inches little dipper is one of the most appealing choices you have if you require a finesse approach.
It works particularly well with a fish head spinner and is excellent in drop shotting as well.
This swimbait will prove to be a valuable ally in your fishing expedition and ensure that you do not return home empty-handed.
Conculusion – Top 5 Small Swimbaits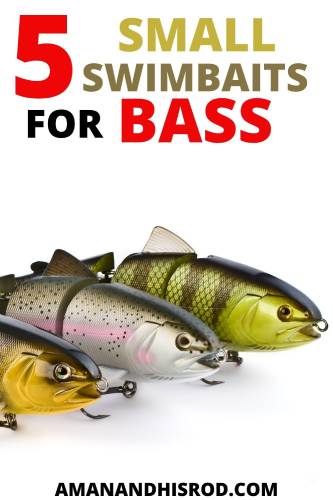 These small swim baits ahave really taken the market by storm the last few years. It is no secret the big fish carching ability of these baits as they are ecptremely life like. If you have never trined these baits before, you MUST get a pack and at least try them out.
Most of these seim baits can be swam, drug, or bouced back to you. They also make fantastic trailers for spinnerbaits, jigs, and the Alabama rig.
Drop a comment below and let me know what your favortite small swimabit is. I would love to hear what you are using in your water to catch monster bass.