If you haven't figured it out by now, I love fishing spinners. There's no other lure that has caught more trout for me than trout spinners. In this article we will cover just how to fish these lures so you can catch fish too.
This website is reader supported. Any purchases you make through links on this site earn us a commission at no additional cost to you. Thank you for your support!
What is a Trout Spinner Fishing Lure?
A Spinner is a fishing lure from the spinner category of lures. These lures are basic in design and consists of three main components, the hook, the body, and the blade. Spinners use flash and vibration to attract fish.
Panther Martins are one example of a spinner.They have a "wire through" system. What I mean by this is that the wire running through the lure starts at the eye and continues until it attaches to the hook. It runs the entire length of the lure.
The other two main brands of trout fishing spinners are Mepps and Blue Fox. These three brands make up the majority of the fishing spinner market.
RECOMMENDED ARTICLE >> TROUT FISHING FOR BEGINNERS
17 Fishing Spinner Tips for Trout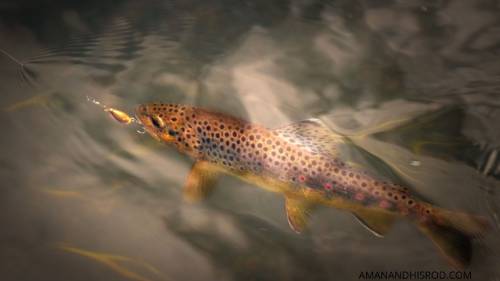 1. Use Snap Swivel – Using snap swivels can prevent line twist while your lure is retrieved.
2. Color Selection is Key – Having a supply of various colors is important. Depending on depth, time of day, and weather, color patterns may change.
3. Casting the Fishing Spinner – Making accurate casts will catch more fish. Learning to cast these lures is easier than most lures due to the weight of them.
4. Try a Slow Steady Retrieve – A slow steady retrieve often provides results. Try retrieving the spinner just fast enough to make the blades spin. Your rod tip should bounce slowly.
5. The Hook Set – When you get a strike while fishing these lures, increase your retrieve speed while lifting your rod tips giving it slight jerk. Don't over due it here, we don't want to rip the hook out of the fish's mouth.
6. Vary Your Retrieve – Varying the speed of your retrieve can also trigger a fish to bite. Reeling slow and then fast throughout your retrieve is a method used when low and slow is not working.
7. Fish Around Structure – Fish around rock piles or uneven bottom structure such as drop offs. Fish often times use these areas to ambush prey.
8. Fish Prominent Points in Lakes – Fishing spinners around prominent points is a good way to find varying depth in the water column. Trout can usually be found around prominent points.
9. Fish Rivers and Streams – Spinner fishing rivers and Streams is where these lures work best in my opinion. Cast across the current and retrieve your lure using the low and slow method.
10. Fish River Eddies – The eddies in rivers are where the majority of fish will be sitting. Bring your lure passed these whenever possible.
11. Don't Pass on Rapids – When fishing rivers don't let the rapids intimidate you into thinking fish don't feed there. The biggest fish I have caught in rivers have come from the rapids.
12. Use UV Colors – Cloudy days, mornings and evenings present good times to try UV Spinner colors. The added variable can help trout see your lure better.
13. Shake the Rod Tip – Slightly shake the rod tip during the retrieve. This gives a nice bounce to the lure.
14. Add Scent to the Lure – Adding scent to lure is something I don't see enough anglers try. Rub some Pro Cure on your spinner body to appeal to more fish.
15. Add Powerbait to your Panther Martin – Adding a small ball of powerbait to the treble hook can also prove to be vary effective.
16. Add a Worm to your Lure – A small piece of worm on the hook can add scent as well as movement to your spinner. Don't use more than a 1-2 inch of worm. We can't have a fish pull the worm off without getting the hook with it.
17. Make Long Casts – The last tip I have for you is to make long casts whenever possible. A decent trout fishing setup will help tremendously with this. Here is my full review on recommended rod for beginners if you would like some information on that.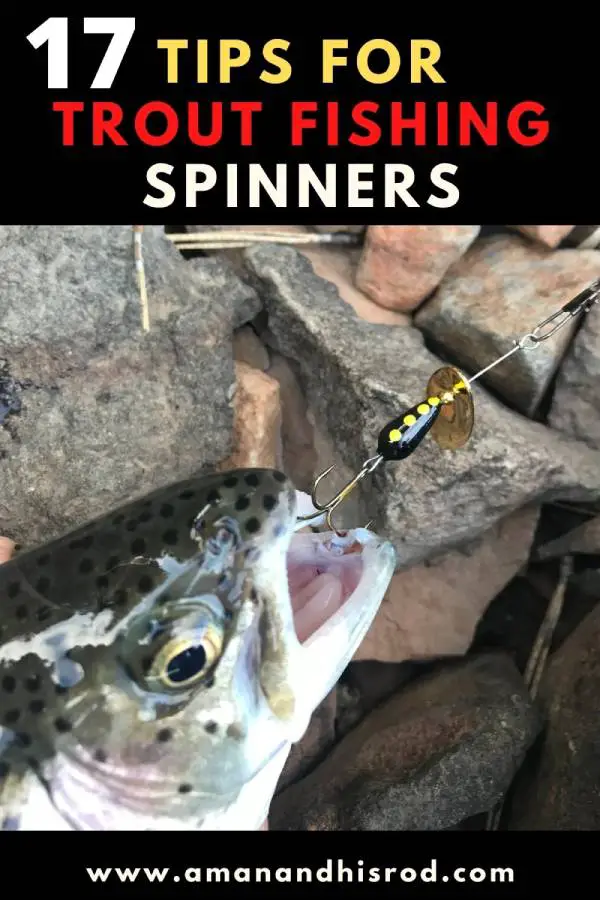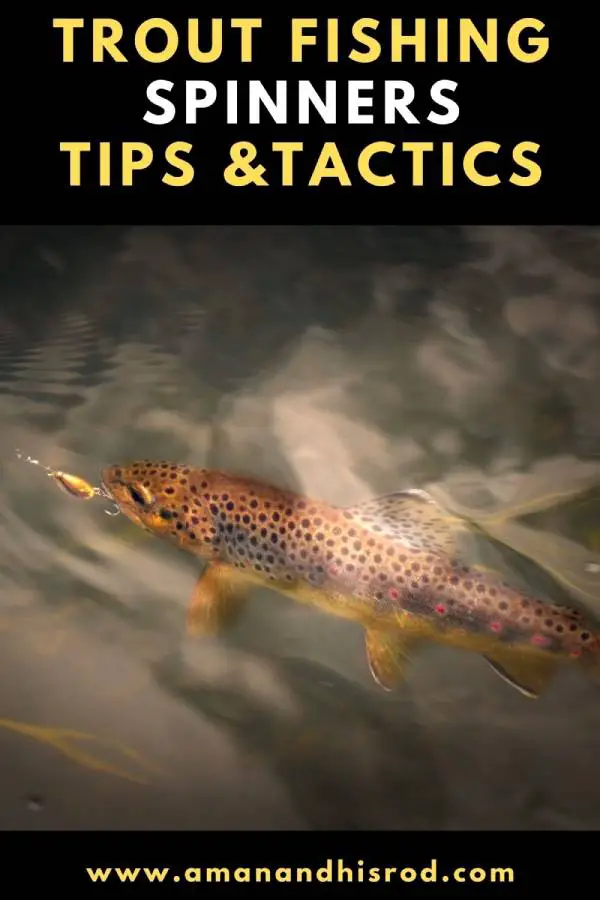 Conclusion – Trout Fishing Spinners
So did you learn anything in this article? If so drop a comment down below and let me know what your favorite tip was.
Do you have another trout fishing spinner tip that you would like to share? I would love to hear about it!
So what are you waiting for? Lets get out there and catch some fish. If you looking for more content I have more trout fishing tactics to help you catch more fish.