If your anything like me then you hate spending more money than you have to just to go fishing. Finding decent fishing rods under $100 can be hard to do. Hopefully, with a little help from me, you can find your next trout fishing rod and stay on budget as well.
When I talk about trout fishing I am mostly referring to bank fishing in lakes or rivers. Whether you are fishing with artificial lures or bank fishing with bait, these poles should be more than sufficient.
Before we get into the poles though, if you are looking for trout fishing tips or trying to find trout fishing lures that crush their competition, these two links are for you.
This website is reader supported. Any purchases you make through links on this site earn us a commission at no additional cost to you. Thank you for your support!

Best Fishing Setups On A Budget
As I start to move my way through this list of trout fishing rods under $100, keep in mind that they are in no particular order. For each rod I will give pros and cons so that you can make your own choice what may be best for you.
Ugly Stik Elite Spinning Rod
Made by Shakespeare, Ugly Stik has been around for a long time. The reason why is that they have been delivering affordable fishing rods at a friendly price.

Not only will this rods come way in under budget, but they are tough as nails as well. The design claims to use more graphite than other rods which makes the poles lighter than most rods.
Another bonus to the added graphite is the tip strength. Ugly Stik is very confident in their rods, so much so that they back them by a 7 year warranty. The 7 year warranty is one of the longest in the business.
[wptb id=1329]
St Croix Triumph Spinning Rods
St Croix rods have been around for over 70 years now. If you have ever out a St Croix in your hand then you know they feel really nice. The higher end models can run upwards of $400 or more. They make one of the best premium rods on the market today. What most people don't know is that they make very affordable options as well.
The Triumph spinning rods start at under $100 and this one is at or near the top of my list. You would be hard pressed to find a trout fishing rod under $100 better than these.
If you want an ultra light fishing rods then this is your guy right here. The Triumph series of rods have a premium graphite construction. They are very balanced and come with great sensitivity. These rods come with a Fuji reel seat and aluminum eyes.
Another really great feature that comes with St Croix rods is the warranty. These rods come with a 5 year warranty and I have personally used it in the past. In my experience the process was very simple and they did not question how the rod broke or back out in any way. To me this is invaluable.
[wptb id=1333]
Abu Garcia Ike Dude Spinning/Spincast Fishing Reel & Rod Combo
The Abu Garcia Ike Dude fishing pole is inspired by bass fishing legend Mike Iaconelli to create possible the best value pole on this list. At the time of this article this rod is priced under $50 with very decent reviews.
The brand backing the rod, Abu Garcia, is staple in the fishing industry. No need to worry about buying a cheap knock off here. This rod comes with stainless steel guides, a trigger grip, and a split grips.
The steel guides will lose some sensitivity but the fishing rod makes up for it with the split grips. Spit grips allow your hand to rest on the graphite itself making it possible to feel even the slightest bite.
The best past about these fishing poles is that they come with the reel. Fisherman have the option to get a spinning reel or a spincast fishing reel with the rod. The spincast option is great for kids or new fisherman.
[wptb id=1335]
Okuma VS-605-20 Voyager Spinning Travel Kit
So we just covered our first fishing combo setup under $100, now let check out our first travel rod setup under $100. When it comes to traveling with fishing gear it can be quite challenging. I am an avid fisherman, that being said I will never miss an opportunity to fish.
Carrying around a one piece rod or even a two piece rod is not practical in the car. So under the back seat you know what I have? I have a nice little spinning combo that packs up nice and tight, stores easy, and can catch a fish.
This Okuma VS-605-20 is just about the best one I have come across so far. There are many really cheap travel fishing rods out there that telescope. I have had the telescoping rods break before I ever even used them. This is not the case here.
The Okuma rod is not telescoping but rather a 5 piece spinning rod. The rod is graphite and the reel is aluminum. This makes for very light weight and easy to pack in and out. At a total rod weight of about 5 ounces, you cant go wrong using this fishing setup for backpacking, hiking, or camping.
[wptb id=1336]
Wild Water Fly Fishing, 4-Piece, 5/6 Weight Fly Rod
Shifting gears here I want to talk to the fly fisherman for one second. Wild Water is breaking onto the scene more and more as of late. These rods are decent little setups and quite possible the best fly fishing setup under $100.
Made of graphite and consisting of 4 pieces, this rod weighs in at just over 4 ounces. The reel seat is aluminum and a double lock rings. It also comes with a standard cork handle, soft and hard cases, flies with fly box, leader, and a spooled reel.
The reel is aluminum with adjustable disc drag and comes spooled with WF5-F line. The idea is that this rod is ready to fish as soon as it shows up to your house.
This rod comes in a 5/6 weight making it ideal for trout and bass as well as other mid sized fish.
[wptb id=1342]
Final Consideration and Thoughts
Truly finding fishing rods under $100 that are quality can be quite hard to do. Typically, you get what you pay for with most things. All of the rods above are ones that I have seen in action. I know their capabilities and some of their limits.
Before we wrap this up I want to give you some other things to consider when selecting a fishing rod that is right for you.
[wptb id=1346]
The above chart is a general guide to help you out if you needed it. If you have any questions about anything you read here in this article please feel free to leave a comment. I truly love hearing from my readers.
If you would like to check out my list of recommended trout fishing lures, just click the link.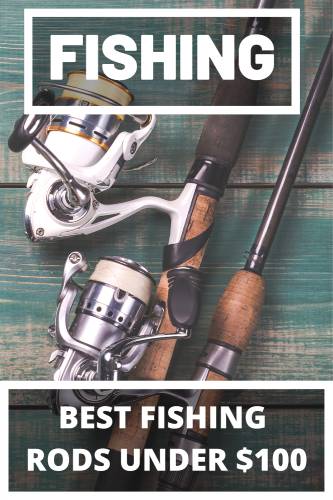 If you have a spare minute and know someone that could use this article then we would love it if you shared with them. You can simply click a social media icon anywhere on this page a link it to them that way.
This site is reader supported. Anything you may buy through any of my links will give me a small commission at no additional cost to you. You support does not go unnoticed. Thank you!