Finding the best trout lures can be a challenge at times. Searching throught the hundreds of manufactures and thousands of fishing lures can take years. Throughout time there are is a small select batch of trout rigs that have roven to produce more fish than the rest.
If your not certain how to fish these lures that's ok, dont sweat it. Below each lure you will find fishing tips and techniques designed to trout fishing for beginners learn more.
This website is reader supported. Any purchases you make through links on this site earn us a commission at no additional cost to you. Thank you for your support!
#1. Panther Martin Spinner
Panther Martin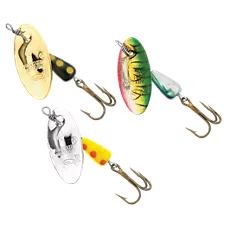 Best of the Best!
Icreased Vibration and Flash
Various Sizes
Many Colors
Sharp Quality Treble Hooks
Casts Easiliy and Accuratly
These trout fishing lures are a hands down favorite lure of many experienced anglers. The Panther martin lure company has lasted the test of time in the fishing industry. While these lures are ideal for bank fishing in lakes, they are equally effective in rivers and streams. Rainbow and brown trout are the main species caught by anglers, but bass, crappie, bluegill, carp and even catfish have been landed while fishing these baits.
The Panther Martin spinner has a uniqueness about its body style. The weight of the lure is actually attached to a wire frame. The tear drop shape allows the lure to be cast very well as it is arrow dynamic. Casting an 1/8 ounce Panther Martin 50 feet is not uncommon. The treble hook on these lures are durable as well not accumulating rust or bending for years under normal fishing conditions.
How to Fish Panther Martin Spinners
These inline spinners are unique as we have already stated. On retrieval, the lure blade spins at almost a 90 degree angle to the lure body.
These inline spinners are unique as we have already stated. On retrieval, the lure blade spins at almost a 90 degree angle to the lure body. Occasionally the lure itself will spin causing your line to spin. This creates "twist" in the fishing line and could lead to knots or rats nests in your spool.
the lure itself will spin causing your line to spin. This creates "twist" in the fishing line and could lead to knots or rats nests in your spool.
To prevent this, it's recommended to always use a snap swivel when fishing inline spinners. The swivel will keep your line straight while still allowing the lure to spin freely.
How to Fish Panther Martin Fishing Lures
Make Long Casts
Fan Cast
Make Multiple Casts to the Same Location
Cover Water
Change Colors Often
Fish Varying Depths (top to bottom)
Use 4-8 lbs Fishing LIne
The last thing worth mentioning here is tackle storage. A panther Martin put away wet will rust. Because these lures have a single wire frame and no swivel, there is no way to change the hook out if rust occurs. To prevent rust on the lures, open your lure box after each fishing trip and allow them to air dry. Using a towel or shirt can help dry lures as well.
Pros
Catches TONS of fish!
Easy to Use
Great Quality
Many Colors to Choose From
Sharp Treble Hooks
Insane Vibration
Intense Flash that Attracts Trout
Cons
Prone to Rust
Can Create Line Twist
Slightly More Expensive than Other Trout Lures
#2. Luhr Jensen's Super Duper
Luhr Jensen Super Duper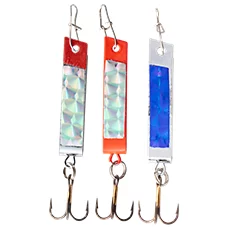 Super Duper Key Features
Simple – Effective Design
Easy to Fish
Quality Components
High Visibility Under Water
Unmatched Presentation
While some might be surprised to see this lure at number 2, they can't argue that the Super Duper catches fish. The reason we feature this trout fishing lure here is simply because of its diversity. The Super Duper can be fished from the bank, from the boat, or from the river's edge.
The very shape of these lures is unique, the paint schemes are simple, and so are the methods of fishing them. You see the bend is these fishing lures cause erratic behavior. It doesn't retrieve in a straight line and that drives the trout crazy. Similar to frantic or injured bait fish, the super duper is unpredictable while being retrieved.
The lure spins and tumbles while changing directions often. Fishing these lures is simple.
How to Fish the Super Duper
Use LIght Fishing LIne (2-6 lb test)
Retrieve Slowly
Stop Retrieve Frequently
Fan Cast
Use small Snap Swivel
Fishing the Super Duper may be the easiest of all the lures on this list. Size and Color are teh most important decisions here. Using a light fishing line will allow the lure to "work" better in the water. The erratic motion is the goal when fishing these trout lures.
Super Duper lures are designed to flutter. Dead stick the lure (stop your retrieve and let sink) from time to time when fishing from the bank or boat. Trout love to hit these fishing lures while they flutter downward. Watch your line when performing this as it will be your only indication of a strike.
Pros
Unique Design
Fish it Anywhere
Great for Small Streams/Rivers
Catches all Sizes of Fish
Unmatched Action
Cons
Can Cause Line Twist
Difficult Fishing in Wind
Limited Color Options
#3. Rapala Original Floater Minnow
Rapala Original Floater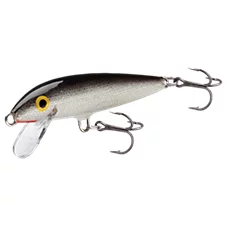 Rapala Key Features
Hard Durable Body
Razor Sharp Treble Hooks
Realistic Design
Multiple Color Options
Sold Everywhere
You may be hard pressed to find a fishing lure that has the big fish catching ability of the Rapala Minnow. These fishing lures have been in production for decades and have recorded more huge trout than maybe any other lure. The sheer design of this trout fishing lure screams eat me whiel swimming through the water column.
Sold in more stores than any other fishing lure, the original minnow comes in a multitude of colors and sizes. The most popular place these lures are fished is behind a boat while trolling. That does not mean however that these great lures cannot be fished from shore. In fact, fishing for trout in rivers with these lures is down right deadly in deep pooles and moving water alike.
The quality of these lures is top notch. You can beat the paint off these lures and they will still catch fish because of the side to side wobbling action in the water. The tail moves ever so slightly and the head slowly rolls back and forth creating a life like motion. The 07 model original floater is my go to size for lakes and rivers.
How to Fish the Rapala Original Floater
Use Snap Swivel
Make Long Targeted Casts
Use 6-12 lb Fishing lIne
Begin Retrieve Immediately Upon Entering the Water
Vary Your Retrieves (slow to fast & erratic)
Twitch Your Rod Tips from Time to Time
Fan Cast
Change Size and Color Often
When fishing the Rapala Original Floater Minnow it's important to make many casts. Repetition and covering vast amounts of water is the key to getting strikes. These lures work especially well in moving water such as rivers or inlets into lakes.
Target large rock outcroppings and underwater ledges with these lures to entice more strikes. Making longer casts will allow your lure to dive deeper thus increasing your odds of catching giant rainbow and brown trout. Some anglers add lead stickers to the belly of these baits in order to get more depth. Although you sacrifice some action of the lure, getting to deeper water when fishing for summer trout may be worth it.
Pros
Life Like Presentation
Realistic Motion
Catched HUGE Fish
Easy to Use
Various Size Options
Multitude of Colow Patterns
Fished in Lakes and Rivers
Cons
Gets Fewer Strikes Than Other Lures
Price
#4. ACME KastMaster
Acme Kastmaster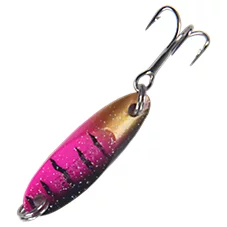 Kastmaster Key Features
Spoon Design
Sharp Hook
Solid Durable Body
Heavy Duty
Multi-Species Lure
The Kastmaster just may be the most recognizable fishing lure on this list. Most fishermen have used a kastmaster at some point or another in their life. These machined lures are made of heavy metal or even tungsten. This allows these lures to be cast very long distances and fished at deeper depths than the rest of the lures on this list.
The design allows for erratic movement in the water without line twist. When you see these lures in action, not having line twists is kind of amazing. They spin and dart in all direction creating an injured baitfish appearence.
Caution and thicker fishing line is recommended while fishing these trout lures. Since these lures are fished close to the bottom, any pause in the retrieve will result in the lure getting stuck there. The sheer weight makes it difficult in shallow water to not get hung up form time to time. Luckily, these lures come in a multitude of sizes. Make sure you size down for shallow water fishing or when fishing rivers for trout.
How to Fish the Kastmaster Fishing Lure
Make Long Casts
Keep Retrieve Constant
Use Appropriate Sized Kastmaster
Use 6-10 lb Fishing LIne
Fan Cast
Target Rocks and Ledges
The Kastmaster can be fished almost anywhere, even the ocean. Thats right, the kastmaster can be fished in both fresh and salt water for trout. Common species of trout caught while fishing freshwater include rainbow trout.
Ironically one can have tremendous success fishing stocked trout ponds with the Kasmaster. Trout as large as five pounds have been taken from trout ponds and even larger fish have been caught in lakes.
Pros
Easy to Fish
Lifelike Action
Over 20 Colors
Various Sizes
Price
Catched Multiple Species of Trout
Freshwater and Saltwater Ready
Cons
Weight
Losing Lures on Bottom Stucture
#5. Blue Fox Classic Vibrax
Blue Fox Vibrax Spinner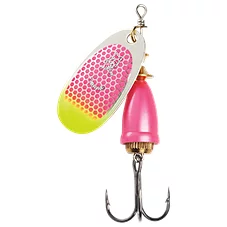 Vibrax Key Features
Bullet Body Design
Larger Profile
Flashy Presentation
Large Vibrations
Multi-Species Lure
Fished Anywhere
Coming in the final spot is the Blue Fox Vibrax Spinner. This lure is a favorite of many anglers when the bite gets tough. The reason being is the extreme vibration that this lure presents with in the water. Fish can feel these vibrations and use this sense to hunt down unexpecting prey.

The Vibrax is a versatile lure that can be fished in lakes, rivers and streams alike. The multiple sizes of the Blue Fox allow fishing at different depths easy and effectively. What many anglers love about these troutt fishing lures are the available colors. Blue Fox is known for its flashy not so normal colors of spinners.
How to Fish the Blue Fox Spinner
Use Small Swivel
Make Long Casts
Fan Cast
Target Structure Underwater
Change Colors Frequently
Use 4-8 lb Fishing Line
The cool thing about the Blue Fox, like other lures on this list, is that they can be fished in any body of water. These trout lures are great for bank fishing, kayak fishing, or trolling. Blue Fox spinners catch a multitude of species including trout, salmon, bass and crappie.
Pros
Over 37 Colors
Various Sizes
Durable Design
Reduced Line Twist
Weighted for Long Casts
Great for Bank Fishing