Not all trout lures are created equal. I have comprised a list of my top 5 Best Trout Lures That Catch Fish. These are trout fishing lures that I have personally used and have had great success with in my life. The list is in no particular order. 
If your not certain how to use these lures that's ok dont sweat it. Ill give you some tips in this article. After you done reading feel free to head on over to trout fishing for beginners to learn more.
This website is reader supported. Any purchases you make through links on this site earn us a commission at no additional cost to you. Thank you for your support!

#1. Panther Martin Spinner
The Panther Martin is a proven producer time and time again. Available in over 17 colors, options are endless.
PANTHER MARTIN "BEST OF THE WEST"
The weighted spinnerbait has great action in the water. My favorite colors are black with gold blade, and yellow with silver blade. 
Fishing the Panther Martin Spinner
This lure comes in at number one because I have caught more trout on these lures than any other bait out there.
Fishing Panther Martins Lures:
1. Tolling
2. Making Long Cast From Shore
3. Short Cast in Small Streams
4. Fish the Bottoms of Deep River Hoes
The Panther Martin will catch rainbow trout, big brown trout, brook trout, and even bass and crappie. That's what makes these baits so much fun to fish.
#2. Luhr Jensen's Super Duper
Number 2 on the list is the Luhr Jensen's Super Duper. Its U shape allows the lure to swim side to side while being retrieved through the water. Luhr Jensen Super Duper
LUHR JENSEN SUPER DUPER
Its action is constant so it works very well in streams and rivers where there is current.
The Nickel Red Head is my favorite color. 
Fishing the Super Duper
This is a really unique bait because of its shape. The shape allows it to spin as it falls and retrieves. Because of this make sure you are using a snap swivel while using these. If not, your line will twist so bad that you will not be able to cast after 4-5 casts.
Fishing the Super Duper Lures:
1. Use a snap swivel
2. Great for small streams and rivers
3. Allow the lure to flutter as it falls while fishing lakes.
4. Great for trolling
Some of my best stream fishing days have come from using the Super Duper. I have also had great success with these lures on remote lakes that do not get much fishing pressure.
#3. Rapala Original Floater Minnow
Number 3 on my list is the Rapala Original Floating Minnow. This guy has some great action in the water and can be fished a number of different ways. Rapala Original Floater (Silver)
RAPALA ORIGINAL FLOATER MINNOW
Although available in 15 different colors, basic silver works very well. Once your familiar with this lure you can create a wounded minnow action that is impossible for trout to resist. 
How to Fish the Original Rapala
1. Tie on a snap swivel
2. Make long casts or troll behind the boat
3. Retrieve the Rapala over or near rock piles
4. Hold on tight cause these lures catch serious trout.
Don't overlook the Original Floater Rapala in the winter months either. These lures provide a large appealing meal to trout. I have had the big ol' girls chase these baits down in winter as well as summer.
#4. Mepps Aglia Inline Spinner
Coming in at number 4 on my list is the Mepps Aglia Dressed Spinner. The hair used to dress this bait adds bulk to the profile.
MEPPS AGLIA SPINNER
The action is very similar to that of the Panther Martin. This lure is available in 24 different colors.
Mepps Aglia is great for all species of fish but I have had great success using them to crush trout. 
How to fish the Mepps Aglia Lure:
1. Troll Behind the Boat
2. Fish Near Rock Piles Close to Shore
3. Fish in Rivers For Larger Trout
These lures can be switched out with the Panther Martin lures. I have not had as great of success as I have had with the Panther Martins however. Where I really like these the most is in the Rivers. I have found that the fur on the hook is more appealing to the easily spooked fish there.
#5. Rebel Craw Crankbait
Finally we have come to 5 on the list. To wrap up the list we have the Rebel Crawfish.
This guy can be the funnest on the list to fish. The action is intense and it get down deep.
REBEL CRAW NEST ROBBER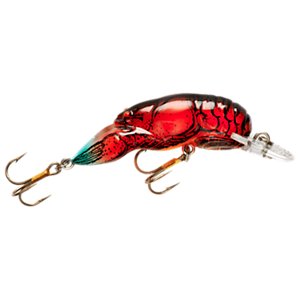 If fishing around large rocks near deep water you may want to think about the Rebel Crawfish.
Available in 11 colors the original red and black works all year long. This is another lure that can catch a multitude of species. 
Fishing the Rebel Craw Crankbait:
1. Troll this Lure behind the boat or kayak
2. Fish near the bottom
3. Work these baits in deep river channels
4. Fish where bass and trout live together.
These crankbaits work well for trout as well as bass. The days of fishing those rocky clear water lakes catch limits of bass and trout will forever live in my mind.
Best Trout Lures – Final Thoughts
Thanks for reading through my list of 5 Killer Trout Lures That Crush Fish. Simply click the images to read more about them. 
Now that you know what lures I use when I hit the water, find out how I put them to work on the water by reading 11 Proven Tactics to Catch More Trout. 
I would love if you subscribed to my blog as well in order to get all of my latest blog posts. Click the subscribe button on the right side of this page. 
Also, you see those social media icons to the left over there? If you wouldn't mind clicking one of those and give us a share that would be deeply appreciated.
Feel free to drop a comment below and let me know what your favorite trout fishing lures are.