What do you do when you're out on the water and your just not sure where that bass are? I get out a search bait and make casts while rapidly covering water. A search bait for bass is any lure you can utilize to assist you in covering water fast.
The idea is that you want to eliminate water. Cross off the places where bass are not feeding. Through the process of elimination, we will eventually find the locations bass are feeding.
These are the baits that have worked the best for me over the years. One of these baits is on my line when I get to the lake. I'm confident that I can tie any of these on, depending on the time of year, and catch fish.
Keep in mind that these lures are in no particular order.
Berkley Power Worm
These Berkley Powerbait Worms can catch fish in a hurry and they're budget friendly. I prefer fishing the larger 10″ plastic worms but Berkely offers multiple sizes and color options. I find that greens and purples work really well in most clear to moderately clear waters.
Fishing these large worms is identical to the smaller worms. You will want to Texas rig these soft plastics. Typically I use a bullet weight except in heavy brush where I will use them weightless.
I find that fishing rubber worms for bass is a great way to quickly fish gravel, docks, and trees. There are not many baits that will catch more fish around these structure types.
River2Seas S Waver Swim Bait
This is one of my top swimbaits to fish. No doubt the funnest fishing lure to use on this list is the River2Seas S Waiver. These baits are my go-to when looking to catch big bass. The S Waiver does just as the name implies. The side-to-side tail motion is very realistic.
Available in multiple sizes and colors I'm sure you can find you to match the bait where you live. I like fishing these swimbaits with 20-pound mono-filament. Simply implement the same swimbait tactics as any other swimbait and you're going to find out fast how real these baits are.
Fish the S Waiver over main lake points, rock piles, submerged brush, and around underwater channels for the best results.
Z-MAN Project Z Chatterbait
If you have a lot of water to eliminate then this is your bait. The Z Man Project Z Chatterbait is super versatile. I have caught fish in open water, brush, logs, rock piles, docks, and more. Chatterbaits can catch MONSTER bass and can be fished in a multitude of situations. Our complete bass fishing guide to chatterbait fishing has more information on why these great lures work so well and how you can use them to catch more and bigger fish.
I prefer these lures over traditional spinnerbait fishing due to the improved vibration. These project z lures gives off a great vibration as well as a full-bodied bait.
I will fish these chatterbaits fast in summer, spring, and fall to catch bass. There are too many reasons to use this as a search bait for bass. I personally like the 1/2 to 3/8-ounce lures. This really allows the bait to get down while I burn it back to the boat.
Strike King Sexy Frog
This is one search bait for bass that I don't use enough of. The Strike King Sexy Frog is my go to when I fish areas with thick vegetation. One of my favorite places to use frogs is fishing bass ponds. Other great areas include shade pockets during summer and weed lines.
The Sexy Frogs have landed me a ton of bigger bass. Fishing topwater lures for bass is so much fun anyways. Watching a bass bust the surface to get there is what it's all about.
Late spring and early summer are the best times to use these search baits. They are versatile from a boat or bank fishing. These frogs are virtually weedless and sit just right in the water. While your our bass fishing this summer don't pass up on fishing frogs to find fish.
Reaction Innovations Little Dipper Swimbait
The Reaction Innovations Little Dipper may just be my favorite bass fishing lure of all time. The reason it's on this list is because it can be fished in any condition. I fish these search baits for bass in every season.
In addition to fishing these small swimbaits for bass all year, I also fish them in every type of structure. They swim through trees, brush, logs, rocks, docks, and underwater channels as well as any bait around.
I personally like the smaller 3-inch variation of this bait. The reason is they make great trailers for jigs, spinnerbaits, and chatterbaits. I most often fish the Little Dipper with a 1/8-ounce dart head. This allows you to jig or swim the bait on the retrieve.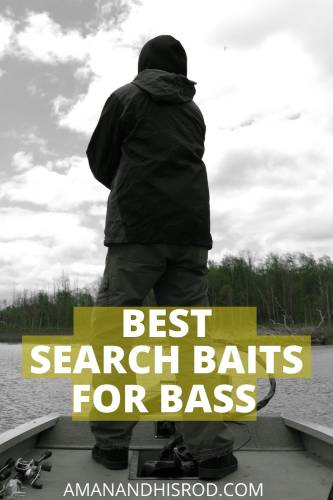 5 Tips When Fishing Search Baits for Bass
1. Weather conditions are a big factor when considering what search baits to use. On cloudy overcast days I'm going to grab the swimbaits to begin my search. I'll use those most of the day until I find where the bass may be feeding. Sunny bluebird days may persuade me to pick up the little dipper or the worm before the others.
2. The type of structure you are fishing. This is one of the main factors when choosing a search bait. As I explained earlier in the article, each search bait has its own strengths in regard to structure.
3. Vary the color of your search baits for bass. The above bass lures are just a starting point to get you on the right path. Have a couple of different patterns or colors handy to quickly change.
4. Vary your retrieve. It's important to play with the speed of your retrieve. Just because we're using search bait doesn't mean you have to fish fast. Sure, depending on the situation this may be warranted. Sometimes it's just the opposite though. Slowing that retrieve down a little, letting that worm sit for a second longer, walking that frog a little slower, or twitching that chatterbait n the retrieve might make the difference.
5. Don't forget to cast and move. The idea is to use these search baits to find the bass. I catch myself getting to a great looking area only to realize I have made 6 or 7 casts here without a bit. While searching out bass I try and keep my casts in an area to a minimum. 2 or 3 casts to a dock or rock pile is sufficient. Don't defeat the purpose by sitting in one spot for 30 minutes with no results.
The Final Cast – Fishing Search Baits For Bass
Utilizing search baits for bass is a great way to figure out your pattern for the day. Search baits are effective in short bursts to allow the angler the ability to move after a couple of casts.
All of the baits listed above are the ones that work the best for me. You may have a different style, location, or water type. Find what works for you. The idea is to have a plan to find the fish. We can't aimlessly fish until we luck into them.
Have you enjoyed this article enough to share it? Use the social icons in this post to share with your fellow anglers.