Do you love fishing? If so, you will probably know that investing in a good quality fishing life jacket is essential. 
It's important to remember to be safe while out on the water. Don't become a statistic and wear a life vest while out on the lake, river, or ocean.
This article will discuss the best life vests for fishing that are currently on the market. Let's take a look! 
This website is reader supported. Any purchases you make through links on this site earn us a commission at no additional cost to you. Thank you for your support!
1. Best Kayak Fishing Life Jacket
Available on Amazon, the Onyx Kayak Fishing Life Jacket is a strong contender for the best kayak fishing life jacket out there! 
It features durable nylon material that is both soft and light to wear.
You can effortlessly adjust the shoulder straps and the mesh in the lower back area provides support, even if you are in a high back seat. 
This versatile life jacket is perfect for fishing as it has several zippered pockets to keep all your goodies secure.
It is also US Coast guard approved, giving you peace of mind that it has your back in an emergency. 
With plenty of pockets, you have enough storage to hold a small tackle box, your wallet, phone or camera, and more!
RECOMMENDED ARTICLE >> REDINGTON WADER REVIEW
2. Best Boating Life Jacket for Fisherman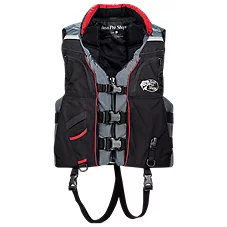 Available in either red and black or a lovely blue color, the XPS Platinum Series Fishing Life Jacket is one of the most popular life jackets for fishing enthusiasts at the moment. 
If you are looking for a great quality life jacket that will last, this one is definitely 
something to consider. The foam is lightweight and feels very soft and comfortable to wear, while its innovative 3-buckle zip system in the front and on the sides allows you to adjust the jacket to what you are comfortable with. 
What customers seem to love the most about this attractive life jacket is the removable fleece-lined collar. This feature will keep you wonderfully warm when there is a chill in the air and can be removed in warmer weather for your convenience. 
It also has reflective tape on the shoulders, making it even safer and more visible. 
The 6 large pockets allow you to keep plenty of fishing goodies on your person so that you don't have to lug a heavy tack box with you every time.
The tool pocket has an elastic strap and it also features unique dual D-ring attachment points. 
We love the fact that it is a convenient hand warmer pockets for those times when your hands are cold but you don't feel like wearing gloves as they interfere with your fishing. 
RECOMMENDED ARTICLE >> 10 AMAZING FISHING GIFT IDEAS UNDER $10
3) Most Popular Watersports Life Jacket
Looking for a life jacket for your fishing that is both lightweight, extra safe, and looks incredibly fashionable? If so, look no further than the highly-coveted O'Neill Men's Superlite USCG Life Vest. 
This one-of-a-kind life jacket is ideal for fishing in any environment and is rated as a  USCG Approved Personal Flotation Device. This gives you added peace of mind when fishing in deeper waters while still wanting to remain completely mobile (this life jacket is incredibly comfortable to wear and allows plenty of movement).
The fit is relaxed, allowing you to forget you even have it on, regardless of your body type. 
In addition, this high quality life jacket has a very strong polyester shell that ensures that it will see you through many years of happy fishing. 
4) Best Budget Friendly Fishing Life Jacket for Adults.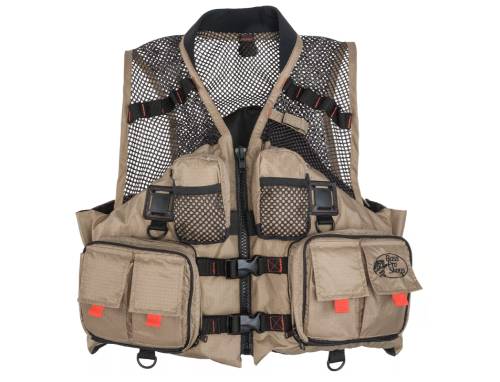 When safety comes first (but style a close second), we can highly recommend Bass Pro Shop's Tournament Fishing Mesh Life Jacket for Adults! 
As the name suggests, this is a mesh jacket and the fabric ensures that you are well-protected on the water, no matter what the weather. 
In terms of color, this excellent life jacket for fishing is available in either tan or green and features innovative ripstop nylon to help prevent tears, nicks, or rips from taking hold. The liner consists of the softest polyester together with a cozy neoprene collar to ward off the cold and wind. 
When the weather is warm, this gorgeous life jacket will keep you cool and this is because of the mesh fabric upper back and shoulder sections that allow for plenty of airflow in this area. 
Of course, this life jacket does not skimp on safety and its PE foam gives assured flotation without feeling uncomfortable or bulky. 
Lovers of fishing enjoy wearing this life jacket as it offers convenient accessory loops on which to attach essential fishing gear. It also sports a great rod holder and lots of pockets to store all your vital fishing equipment. 
The seamless handwarmer pockets are a welcome friend when there is a chill in the air or if you simply need a place to store your gloves. 
At this price point and for this kind of quality, you really cannot beat the Bass Pro Shops Tournament Fishing Mesh Life Jacket for Adults. It is a definite thumbs up from us! 
RECOMMENDED ARTICLE >> SHAKESPEARE UGLY STIK GX2 REVIEW
5) Best Paddle Boat Fishing Life Jacket
Looking for a cost-effective but 100 % safe life jacket for fishing? If this sounds like you, then the Onyx MoveVent Torsion Kayak/Paddle Life Jacket should definitely be something you consider. 
Not only does it boast a buoyant foam section, but it also has a great, compact design that is easy and comfy to wear and safe for even the deepest water fishing. 
This nifty life jacket for fishing comes in a cheerful red color and has a very useful large pocket in the front that you can use to store your fishing paraphernalia. 
6) Best All Purpose Fishing Life Vest
Whether you decide on the red or the blue model of the XPS Deluxe Fishing Life Vest, you cannot go wrong with this snug and lightweight life jacket!
The best feature of this excellent quality life jacket is definitely the way it feels (or does not feel) when you are wearing it.
Although it has all the buoyancy you need in terms of safety, you can barely tell that you are even wearing it and it also allows you to move your arms around freely, which is a highly-coveted feature on a life jacket for fishing! 
We love the 2 zippered pockets that have mesh bottoms as this allows any wet fishing items to drain properly and it is also large enough to keep a wide range of items so that you can leave your tack box for a while. 
For additional safety, it has reflective tape and piping so that you don't have to worry when fishing in deeper waters. 
Another convenient feature is the rip stop nylon fabric which is a welcome characteristic, especially with fishing enthusiasts who often work with sharp objects.