Everyone has that special dad that they need to shop for. Most outdoor dads love to fish so naturally we want to buy them fishing-related gifts. Buying fishing gifts for Dad does not have to be a daunting task.
The problem with this idea is that most dads already have everything they need right?
WRONG! My wife is always telling me that I have enough fishing gear. She doesn't know half of it.
The truth of the matter is that we dads always need more fishing-related tackle. Different species, seasons, waterways, and techniques all require different fishing equipment.
Here is a breakdown of some great fishing gifts for Dad that are sure to put a smile on his face.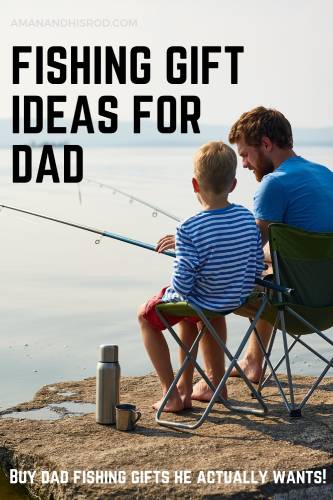 This website is reader supported. Any purchases you make through links on this site earn us a commission at no additional cost to you. Thank you for your support!
The Obvious Fishing Gifts For Dad
These items seem to be the ones that most dads get for Christmas, Birthdays, Father's Day, or Anniversaries.
Now don't get me wrong these are all great ideas, just not the most thoughtful.
Gift Cards to Outdoor Stores
Gift cards are always a reliable go to option. They allow dads to spend the money as they see fit. But as the buyer this can sometimes make us feel like we aren't trying very hard for someone that we love and care about.
Think of a gift card as an accessory gift to something else. Buy a few other items and make the gift card part of the package.
A Hat for Every Occasion
It never fails that the family wants to buy the fisherman a hat. Fishing hats are not so bad as gifts, but if your dad is anything like me, I already have 100 hats.
I do enjoy a cool fishing hat every now and then don't get me wrong. If the fisherman you are shopping for does not have a decent hat selection then this is a fantastic option.
Consider baseball caps and full-brim hats like the one below. These hats provide great protection from the sun and light rain.
#1 Dad Shirts and the Like
Shirts are always going to be bought for fishermen. After all, we usually have to wear one while we're fishing. I will say that not all dad fishing shirts are created equal. Some can be quite funny but most are mass-produced and we see them everywhere.
If you want to get your dad a shirt for fishing I have a few ideas for you that he will like down below.
Outerwear For Dad That He Will Actually Wear Fishing
What we wear fishing matters. It's not always about style but about comfort. Something too big, bulky, thin, small, tight, loose, or uncomfortable and fishing can get frustrating really quick.
Here are a few outerwear ideas that Dad will love.
Vented UV Protection Shirts
Vented shirts are ideal for hot summer months of fishing. This style of shirt allows us to release heat while protecting ourselves from the sun.

Sun Protection is important to fishermen. Skin cancer caused by the sun is extremely prevalent in anglers. Applying sunblocks and the like often leave an oily residue on your fingers. This residue in turn gets onto our baits and lures for the fish to smell.
The fabric of these shirts is very comfortable making these a great option for dad. The next item I will recommend plays off this same premise.
Fishing Buff for Face and Neck Protection
Fishing buffs have become more and more popular over the last few years. They provide another great alternative to sunblock. These things come in all kinds of patterns and are relatively inexpensive.
In addition to the UV protection these face and neck protectors also block wind. Wind can cause the same time of skin irritation that the sun does.
Most buffs are large enough to cover the neck, face, and ears.
Sun Glasses are Not Just Sun Glasses
If your father is a serious angler then I guarantee they have a pair of decent polarized sunglasses. Polarized glasses can really up your fishing game. Sunglasses are not just sunglasses however, they need to be polarized.
Polarized glasses cut out the glare from the sun allowing us to see into the water. This is especially important for trout fishing, bass fishing, and fly fishing.
Find a HUGE selection of polarized fishing glasses here.
Fishing Coats and Jackets
Fishing in the winter in most states can be downright miserable. These options are something that dad can wear anytime not just while fishing.
My rain gear is the greatest gift I have ever received as a fishing gift. Staying dry, and I mean REALLY staying dry, is so crucial when fishing in the winter. Frogg Togg is a very popular brand that offers affordable rain suits.
Carhartt Fishing Jacket
We all know the trusty Carhartt brand. Outdoor enthusiasts have been buying Carhartt for decades now. The Carhartt angler jacket is 100% nylon and comfortable as all get out.
This jacket keeps you warm, protects against rain, dries fast, and packs light. One of these should be in every angler's closet.
Carhartt Flannel Lined Pant
For those intermediate weather situations, these pants are the way to go. They are lined with flannel and add an extra layer of warmth. Comfortable and rugged they keep me warm. I particularly like these while I am bank fishing in the winter months.
Fishing Footwear and Shoes
When it comes to footwear we have to really evaluate the style of fishing we are doing.
Does your dad like to bank fish?
Does Dad fish from a boat?
If Dad usually fishes from the bank or has to hike into his fishing spots then we will want a traditional hiking/walking shoe. These are tennis shoe style shoes typically.
The three brands above are probably the most popular among anglers as of late. Columbia has shoes for every outdoor style while Huk also provides a rain boot as well.
The Crocs make great summertime fishing shoes when we don't have to worry about freezing off our piggies.
Bank Fishing and Beach Fishing
There are two options for beach footwear for fishermen. Both provide protection from water, sand, and mud.
Muck boots are the industry leader in my book. The comfort is top notch and they can take a beating. I wear mine all the time not just while fishing. These bad boys are seriously nice rain boots.
Another nice boot is the PFG by Columbia. To me, they are not as nice as the Muck boot but they are also cheaper. They come in right around $50 so that's less the half the cost of the Mucks.
Both of these boots work very well in the ocean and rivers. It makes for no big deal when the ocean waves crash up on the shore and catch you off guard.
Warm Socks for Winter Fishing
This kind of goes along with the last section. Warm socks can really make or break a fishing trip in the cold weather.
These really are the best in my opinion. I feel like they fit well with any boot and keep my foot warmer than most brands would. They can even fit into the Muck boot if you were fishing in extremely cold conditions.
Fishing Gear That Dad Will Actually Use
Now that we have got all the wearable goods out of the way we can focus on the good stuff. Dads love getting new fishing gear. With so many types of fishing out there, it can be challenging to narrow down just what fishing gifts dads want.
Fortunately for you, these items are sure to be useful and not just another thing in the garage.
Best Fishing Poles for Dad
Maybe your dad has mentioned needing a new pole or maybe he doesn't fish at all and wants to start. These rods are a great way to get into the sport or simply add to the collection of fishing rods.
Spinning rods can be used for almost every type of fishing. The Penn Battle II comes in various different sizes and strengths. The Penn brand has been around for a long time and is considered to be one of the industry leaders.
A great rod for salmon, trout, bass, and small species like sunfish and perch.
When you talk about recognizable fishing rods Ugly Stick is right up there at the top. They tout about the toughness of their rods being almost indestructible. I have a few of these and they can take a beating.
They are not the most expensive rods but they are very capable of catching fish. I have $500 dollar fishing rods and still find myself reaching for my ugly stik from time to time.
Fenwick rods are another fisherman-tested and approved brand of spinning rods. They have been around for a long time and anglers have come to trust them.
I like using my 7-foot Fenwick when fishing with bigger baits or catching larger fish. This rod works great when I am salmon fishing or trolling for trout. I have also used this rod to throw small to medium swim baits for bass.
Lures and Baits Sure to Fill the Stringer
Every dad has a certain few baits that they think are the secret to their fishing universe. While this may be true the reality is they are not a secret. Fishing is a huge industry and there is always a new variation or bait coming out. The fact of the matter is that these new baits are based on the old tried and true baits that dads grew up fishing with.
I'll break down lures and baits by species of fish in order to make it easier to narrow down. Not one baits will work for all species so it is important to have a variety.
Best Trout Fishing Lures and Baits
The following are some of the most proven ways to catch trout. If you have read many of my other articles such as 5 Best Trout Lures to Catch More Fish, then you know I love the Panther Martin Spinners.
4. PowerBait Glitter Trout Bait
Conclusion for Dad Fishing Gifts
At the very least I hope that this list gives some outside the box ideas when shopping for fishing gifts for Dad. It's not always about cute shirts and gift cards.
Need more fishing gift inspiration?
10 Amazing Fishing Gift Ideas Under $10 is just what the doctor ordered.
This site is reader supported meaning any purchases made through my website I earn a commission on at no additional cost to you. Your support is greatly appreciated.