If your like me then you love river fishing for trout, large rainbows and browns alike. In fact, its one of my favorite places to fish for trout.
You see rivers are unique, I have never fished a river that is exactly the same as another.
Each river has its own unique footprint. Unlocking that footprint can be challenging, but when you do, the rewards are worth the work.
I have access to three rivers within 20 minutes of my house, one of which I can be at in 10 minutes or less. I know that most people do not have this luxury so let me share my lessons learned so that your time on the water is time well spent.
This website is reader supported. Any purchases you make through links on this site earn us a commission at no additional cost to you. Thank you for your support!
Understanding Your Trout River Fish
Reading the river is a very important aspect of having success when fishing rivers for trout.
Trout will swim in and out of the moving water all day in order to eat and live strong.
WHAT DO TROUT NEED TO SURVIVE?
Trout need three essential elements to survive in rivers.
Food – Trout feed on unsuspecting prey such as insects, bugs, crawdads, other fish, and terrestrials.
Moving Water/Oxygenation – Now moving water in this scenario is a given, after all, we are talking about fishing rivers. Stagnant water tends to be deprived of oxygen. Rivers and streams tend to not have this issue since it is constantly churning and introducing fresh oxygen.
Shelter/Protection – Trout also need protections from predators and shelter from the current. Although they are very resilient, the fish need a break from the current at times.
How to Find River Trout
Fish can use debris, rocks, ledges, and even the banks of the river as a protection from predators.
These same areas that trout use to take reprieve are some of the same areas they will use to ambush prey. Thus, our first tip is this…..
TIP #1

TARGET AREAS NEAR DEBRIS, ROCKS, AND LEDGES TO INCREASE YOUR ODDS OF A STRIKE.
Trout Spook easily, make sure to stay back and take longer casts to these locations.
Reduce the entry splash of your lure into the water whenever possible.
Riffles, Runs, and Pools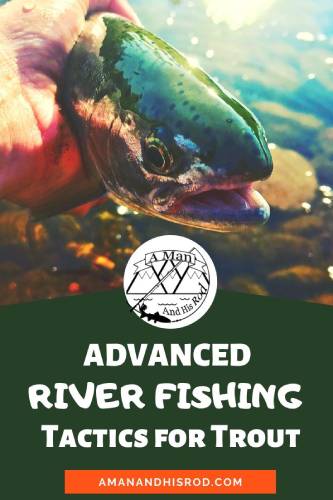 These 3 sections (riffles, runs, and pools) are key to a fisherman's success. Getting a better understanding of the difference between them is the key.
WHAT IS A RIFFLE?
These are areas in a river or stream where the water tends to be shallow but moves faster due to a drop at the bottom.
Riffles tend to centralize insects and other food into a common location.
In most cases riffles can turn into runs or can end into pools.
Just because riffles are shallower than other spots don't let this fool you. I have caught plenty of fish in and very near riffles.
This leads us to our next tip.
TIP #2

IN ADDITION TO CASTING IN THE RIFFLE, DON'T FORGET TO CAST JUST ABOVE AND BELOW A RIFFLE. THE BIG GIRLS WILL MOVE THROUGH RIFFLES WITH EASE.
WHAT IS A RUN?
A run is very similar to a riffle, the difference being that a run tends to be deeper.
Often times a riffle turns into a run.
A run will often lead to a pool.
WHAT IS A POOL?
A pool on a river or stream is a deep section where the water slows down significantly.
Pools are notorious for holding large trout. They offer deeper protection form predators outside the water.
TIP #3

OFTEN TIMES I WILL SWAP FROM A SPINNER TO A RAPALA WHEN I APPROACH A LARGE POOL IN THE RIVER. THE ORIGINAL RAPALA CATCHES THOSE LARGER TROUT THAT SIT LOW IN THE POOLS.
If you don't have Rapalas in your arsenal, you can find some HERE.
Fishing Rigs for River Trout
When talking trout rigs there are two types that one may use to catch fish on the river.
In this article I will be focusing on spin fishing for trout in rivers which has been proven to work for me and will work for you too!
However there is "more than one way to skin a cat" mentality when talking about river trout fishing.
If you would like to know more about fly fishing for trout, I have multiple articles on that. Also you will find the most popular articles in the side bare or the bottom of this page.
Spin Fishing Setup for Trout in Rivers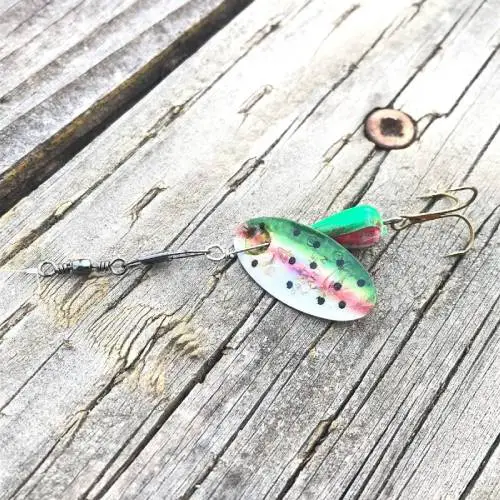 With the emergence of fly fishing many anglers have been lured (ouch, excuse the pun) away form the trustworthy and proven spinning set up.
Spin fishing is easier than fly fishing for many anglers. The tumbling currents and constant movement make it ideal.
These set ups will allow you to cover water faster when trout fishing.
Snap Swivel
Anytime you are using spinning gear in a river retrieving artificial trout lures, you MUST use a snap swivel. These will keep your line from twisting to the point of no return.
Line Size
When it comes to line size and type I prefer 6-10 pound test monofilament line.
Not sure what line is right for you?
Rod Selection
As far a rod selection goes lets keep it simple. A medium light action rod is all that's needed here. This size rod will easily handle spinners and Rapalas alike.
Reels
For general trout fishing in rivers no need to get fancy with our fishing reels either. I have used, and caught fish, with $10 reels and I have used, and caught fish, with $400 reels.
The truth is that the price does not matter. Spend what you are comfortable spending on a spinning reel.
Spinning Reels on a Budget
1. Pascifun Flame 2000
Light weight at a low price point. One of my kids has this very reel on their fishing pole and we have had no issues with it after 20 or so fishing trips.
2. Pflueger President Spinning Fishing Reel
Plueger has been a staple in the fishing industry for a long time. The products they pout out you can trust. I have multiple pflueger spinning reels and I have had no issues with any of them.
3. Penn Conflict II Spinning Fishing Reel
Penn is another brand that has been tried and tested over time. I sill have penn spinning reels that my dad owned as a kid and I still use them to catch fish to this day.
How to Targeting Trout in Rivers
In this section we are going to dive into the "meat and potatoes" of advanced level trout fishing in rivers.
And on that note, for anyone seeking more of a beginner's level this has got you covered.
Back to it, earlier we discussed areas of opportunity when trout fishing.
Now we are going to discuss how to attack those areas in a organized strategic way.
I see all to often anglers walking up to a certain fishing spot, scan the river for obvious holding locations, and without a second thought, they fling their best lures for trout river fishing into the air.
While this may work for many anglers, imagine if you could catch 2 or 3 times as many fish in the same hole.
Identify Trout Holding Locations
As I said earlier trout tend to hold up in riffles, runs, and pools.
Take a look at the picture below. Where could the fish be holding?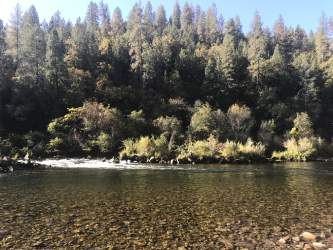 Truth is they can be holding anywhere in this stretch, right?
You have constant flow coming off a run into a pool.
This provides fresh water and endless food supply.
Lets just make a cast and hope we get lucky right? Wrong…..
Lets make a game plan first. Typically, I will break this section down into zones.
TIP #4

DEVELOP A PLANE BEFORE MAKING ANY CASTS. A PLAN WILL GIVE YOU STRATEGIC ADVANTAGE OVER THE FISH. I WILL EXPLAIN THIS IN MORE DETAIL BELOW.
Identify Zones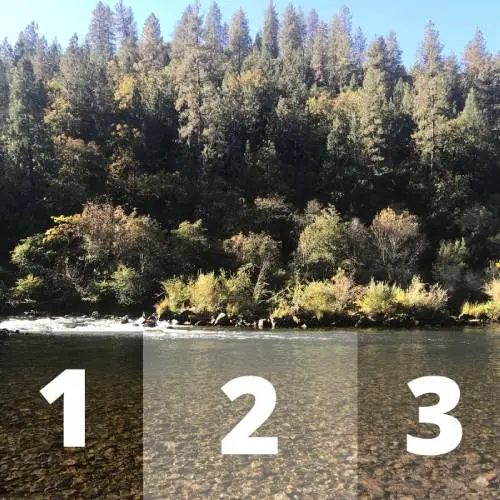 ZONE 1 – The bottom of the run meets the top of the pool. On the left of zone 1 is deeper water.
ZONE 2 – Water from the run moving into the pool slows down significantly. This is the deepest of the sections although you can't see that in the picture. Ideal location for actively feeding trout.
ZONE 3 – The tail end of the run where the run disperses and the pool is all that remains. This area is relatively easy for a fish to sit and wait for an ambush.
Now that we have identified the holding locations let create a plan of attack.
Strategic Casting for Greater Results
Now that we have identified what trout are doing and where, we can focus on our fishing techniques and begin to make casts in order to land some of these fish.
Typically, when we hook into trout they tend to want to move toward safety.
Safety is deeper water, moving water, boulders, trees, and over ledges. More times than not these are the same areas that we discussed with ambush points.
Lets use this information to our advantage.
I will put the picture here again so we don't have to scroll so far to reference it.
If I cast and catch a fish in zone 2 where will it go?
Well it will more than likely run to one of two places. It can go to the deeper water to the left of zone 1, or, the deeper water to the right of zone 3.
That would suck if you made your first cast in the hole to zone 2 near the white water, hook a fish, and she runs all through your other zones.
Your first cast just spooked all the fish in that hole more than likely.
On the other hand, if you cast to zone 3, then zone 1, and end with zone 2, this could very well maximize your odds of catching multiple fish in the same area.
Since the fish being caught in zones 1 and 3 will more than likely not run very far but rather just dive deeper, you are not compromising the other locations you wish to fish.
If fishing in larger areas you can use this same strategy to break down zones into smaller quadrants.
Maximizing each and every cast is crucial when river fishing for trout.
Best Lures for River Fishing Trout
I have referenced a couple of my favorite "go-to" lures already in this article.
There are however other great lures to use when it comes to river fishing for trout.
Below is a short list of just a few of these lures.
These are just a few lures that could work when trout fishing.
Do you want more trout fishing lures?
Check out my list of "Best Trout Lures" for more options.
Final Thoughts – River Fishing for Trout
Hopefully by now you have picked up a thing or two about fishing rivers for trout.
It is my hope that the things I have explained will catch you more fish your next time out.
Lets recap what we talked about in the list below.
What Trout Need
Riffles, Runs, and Pools
River Fishing Tackle
Terminal Tackle
Indentifying Holding Locations
Stategic Casting
Best Lures when River Fishing for Trout
If you have any other questions feel free to drop a comment down below and I will reply shortly.
Also, follow us on social media in order to see my latest fish, quick tips, and giveaways.