Have you ever been sitting around, fishing on the bank of your favorite fishing hole, and dreamed how great it must be to own your own fishing tackle company? Ya….me too!
Very few anglers actually take action on this feeling of being an independent lure manufacturer. I'm one of those anglers that decided to take the plunge, albeit I never found huge success, I was making profits at various times.  
Anglers from all over the world are taking part in a renaissance that you may not even know is happening. You see, the fishing industry has gotten extremely popular over the last decade. Tournament anglers and weekend fishermen alike are always trying to get the upper hand on the competition.
It's a race to find that next new bait, the hot lure, or bring back an old one. But what if you could design and make a completely new lure, one that no other angler has, and you can create it in just one day. 
Well, that's exactly what's happening. With technology advancing at such a rapid pace, manufacturers are competing to bring down prices. 
With a little bit of creativity, a dash of ingenuity, and some paint, you can create the next lure that crushes the fishing competition. You can be the only one in the world with it or sell it to the world to support your fishing habit. 
In this article we will go over some of the most popular ways that hobby anglers are making money, some of them hand over fist, in the fishing industry today. 
I'll walk you through the steps to becoming your own brand and share some lessons I learned along the way.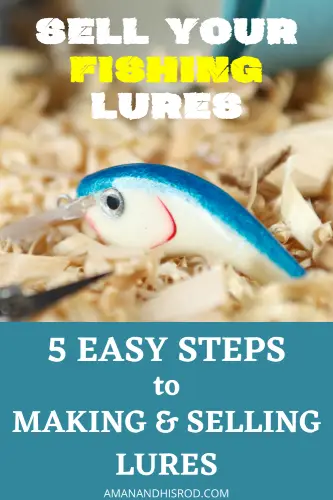 This website is reader-supported. Any purchases you make through links on this site earn us a commission at no additional cost to you. Thank you for your support!
Step 1: What Fishing Product Will You Sell?
As an angler, you use a variety of fishing equipment. Lures are the main product that anglers want to sell but the list of products you can make are endless. 
Lures
Clothing
Weights
Flies
Fishing Rods
These are just a few avenues you can head down when becoming your own brand. 
When deciding what your first product will be I encourage you to do research. Making fishing rods will cost you more upfront than tying flies would. Know how much money you have to invest in this endeavor. 
Things to consider are the cost of manufacturing, packaging (often overlooked), shipping, and advertising. Each aspect is as important as the other. I'll get into these topics more in a minute, for now, let's continue to focus on lure making. 
Lures are by far the most fun to make. I have made some really nice lures that catch a lot of fish. Naturally, I have made even more lures that I can't believe I'm even tying to the end of my line because it's so horrible.
Here are a couple of ideas for your lure making business listed below. I have used all three of these methods, each just as difficult as the other, and each one challenging. 
Tying Fishing Flies
This is not a lure making skill that is going to get you rich quickly. In fact, that couldn't be further from the truth. Tying flies takes time and patience to learn. 
Fly tying is one of the oldest and most sought after artificial lure making skills in the world. Fly fishing flies can be used to catch a variety of fish including trout, bass, salmon, panfish, and more.
In order to make money tying flies, you need to be able to tie at least 6-12 flies an hour on average. That's not an impossible feat once you master the art. Even so, a dozen flies can be bought for less than $1 per fly these days online. Some of the more advanced and time consuming specialty flies may fetch 5-15 dollars per fly. 
I personally have sold flies with decent success over the years. The key is to find 5-10 flies that you can tie fast. I focused on the mass production of midges, pheasant tail nymphs, and dry flies. Tying varieties of these three flies I got to a point where I was producing 10-20 flies an hour. This was the only way I was ever able to make profits by tying flies.
Orvis Fly Tying Kit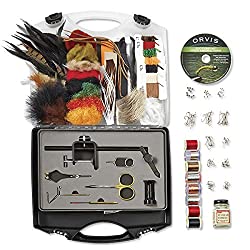 Why It's Great
Instructional DVD
Learn Basic Patterns
High-Quality Tools
Premium Fly Tying Materials
If You're a trout fisherman this is probably the best route for you. Fly tying is often taken up by trout fishing enthusiasts around the world to make unique flies specific to certain waterways.
There may be a certain fly you have seen around your favorite trout stream and you just can't find a fly that matches the pattern. Well, tie your own! The Orvis Fly Tying Kit is among the best starter kits in the business.
If You're a trout fisherman this is probably the best route for you. Fly tying is often taken up by trout fishing enthusiasts around the world to make unique flies specific to certain waterways.
There may be a certain fly you have seen around your favorite trout stream and you just can't find a fly that matches the pattern. Well, tie your own! The Orvis Fly Tying Kit is among the best starter kits in the business.
Pouring Soft Plastic Fishing Lures
Pouring soft plastic lures has really taken flight over the last 5 years. I myself am guilty of dabbling in this world some. With a small investment, you can start your own lure making business from scratch. 
With a simple soft plastic lure making kit, you can start pouring your own creatures, worms, or grubs in no time. 
Now, this may sound super easy but let me tell you, honestly it can be frustrating. Everything has to be the right temperature, the right salt content, dye, glitter, the pour has to be the right speed. There really is a lot that goes into making flawless baits. 
Of the three methods, I am going to tell you about today, this one is the easiest to learn and has the cheapest starting cost. This also means that it's the way a lot of anglers are trying to make money in the sport of fishing right now. The soft plastic market is pretty saturated at the time of this article being written. 
Another advantage is that most anglers already know how to fish soft plastic lures. They are comfortable spending money on something they have had success with.
The key to turning profit with soft plastic lures is mass quantity. Similar to the flies, you will need to produce a ton of these lures to turn a real profit. Don't let this discourage you though, I have some good news. There are tons of youtube videos out there to teach you how to pour soft plastics. 
Using resources like youtube can provide exceptional instruction on pouring plastic lures. 
***It's worth noting here that Plastisols contain chemicals that are toxic. Respiratory protection and good ventilation are required when working with them. 
ALUMILITE SOFT BAIT KIT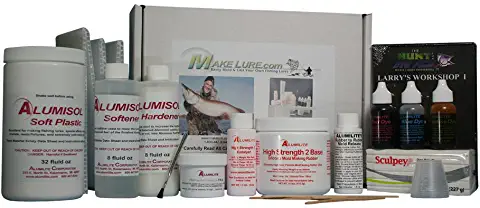 Why We Like It!
Make You Own Lures
Adjust Color & Hardness
Reuse Old Baits By Melting
Simple and Easy to Use
This is the soft plastic bait kit that I bought when I first started pouring soft plastics. I found the kit really easy to use and simple to learn. It literally has everything you will need to start pouring.

This Kit provides you with the basics only. It is designed to wet your apatite some in order to know if this is something you may want to pursue.
3D Printed Fishing Lures
3D printers are all the rave right now across just about every industry. From jewelry to the military, 3D printers are proving their value. The fishing industry is no different. You may be surprised to learn that the best 3Dprinters for fishing lures won't break the bank.
The cost of these machines is extremely affordable starting at under $300. The beauty of these printers is that they are simple to use. The hardest part is getting the CAD design into the machine, but I have a solution for that too. 
Fisherman can go on to Amazon and pick up a 3D printer like the Ender 3 Pro, go to a website such as pinshape to download a design, upload it to your 3d printer, click start, and walk away. 
Obviously, I simplified the process here, but it's really not that far fetched from the truth. Once the lure is done printing you simply clean it up with a little sandpaper and give it a paint job. After the paint dries you can insert eyelets bought off of amazon. I don't attach my hooks until after the painting process is complete. 
Ender 3 Pro 3D Printer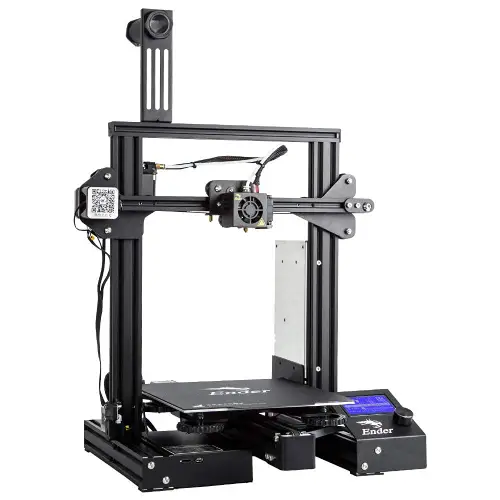 Why It's the Best!
Simple and Easy to Use
Ability to Pause
Removable Building Plate
Multiple Uses
Painting fishing lures can be as simple as a sharpie pen or as complex as an airbrush. Either way, with the right artistic ability you can create a paint scheme that's all your own. 
If you have any technical abilities this may be the best option for you to start a fishing lure company. I myself am technically challenged and have had very few issues with my Ender Pro 3.
Step 2: Packaging Your Product
Once you've created your product, in my case lures, we have to design and develop the packaging. How are you going to present this product to the consumer? Obviously, you can't throw 20 rubber worms into a box and ship them halfway around the world only to have an angry customer. 
You only get one first impression, make it count! 
The first time someone sees your product it should leave a lasting impression on them. This doesn't mean that you need fancy elaborate packaging that will cost lots of money. But it will have to have some eye appeal. 
Here are a few Characteristics of great packaging
Clean
Easy to Read
Self Explanatory (by looking at packaging I know what's inside)
Branded (so they know where to get more)
Ask yourself if your packaging checks all of these boxes. Better yet, ask someone else that has no idea what you're working on to look it over for you. Owners tend to be possessive and protective over ideas. Customers don't care about what you think. They care about how it looks and if it catches fish… that's it!
I can't stress enough that your brand on the packing is critical. Let me give an example of packaging for you. 
Let's say I pour rubber worms and my company is called "Smash Mouth Bait Co". On the packaging, I want my brand visible and legible. No font that is hard to read, not overwhelming, and NOT covering my product so you can't see it. Also on the packaging, it should say what is inside such as quantity and color. 
Gary Yamamoto executes this flawlessly in his packaging. Mr. Yamamoto is one of the biggest lure companies in the entire world. Check out the packaging on these Yamamoto Senkos. 
Notice how you can still see the bait, it's branded, and it says size, quantity, and color. Don't be afraid to look at popular brands to get packaging ideas.
Now that you have an idea of how to design your packaging, head over to Amazon and pick yourself up some plastic lure bags. Depending on the size of the bags needed, you can usually pick up a couple hundred for under $20.
Now simply design your packaging and print out stickers on nice sticker paper. I used label paper for my packaging. Also, it doesn't hurt to have a decent printer for this.
Possibly an even better option that I never thought of until I stopped making baits, is to buy the packing wholesale. Buy the bags with your design printed right on them. This can be done relatively inexpensively but the time that you would save is invaluable.
Step 3: How to Sell Your Fishing Product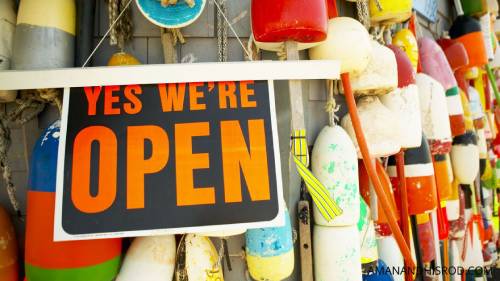 This is really the easy part of this day in age. There are so many ways an angler can sell a product now that it's almost impossible to not make a few sales along the way. I will list a few places to sell your product and then recommend the ones I like. 
Word of Mouth 
Ebay
Etsy
Social Media
You Own Website
Local Swap Meets
Fishing Tournaments
Storefront
These are just the most popular ways I have sold some of my creations over the years. I would be happy to explain each of these in more detail if you wanted. Just leave me a comment down below and I will write an article pertaining to any one of these. 
In general, selling online is so easy these days. Setting up online accounts at these stores is very easy and can be completed in under 10 minutes each. A person can literally be selling their product in minutes online. 
The platform I want to touch on more than the rest is social media. Your company should be plastered on social media. Managing your social accounts can get exhausting. Once you have the following, social media is free advertising. Every post you make gets shown to your followers the next time they log in. A couple of shares later, your new lure company has gone viral. 
Pick one or two social platforms that you're better at to start out. Facebook and Instagram have worked best for me in the past when it comes to selling products. These are the easiest platforms to get seen on mostly because they are the most used. 
The bottom line is selling is a full-time job. Who's keeping up with production while you're selling or advertising the product? How much time do you have to invest?
Step 4: Shipping Your Fishing Product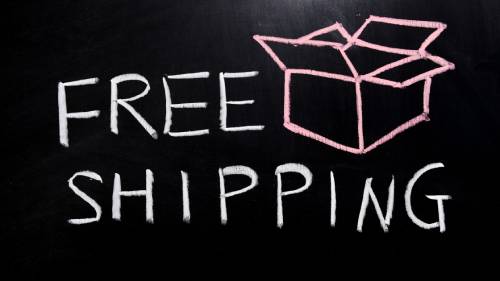 I've found a lot of respect for this step over the years. Shipping can be quite expensive especially when you have to ship something to another country or through customs. Here are a few tips to keep shipping costs down for your fishing company. 
Use discount shippers like Pirate Ship to get discounted shipping costs. Etsy and eBay offer this service straight on the platform but if you're selling on your own online storefront, you will want a discount shopper.
This will require a scale before you ship so invest in a decent shipping scale. These are not overly expensive and are worth their weight in gold. 
Another way to keep shipping costs down is weight. Chances are if you are starting a lure making company your lures weigh less than one once. As a matter of fact, oftentimes my boxes weighed more than my product. To keep weight down use the smallest box possible. Don't overstuff it with padding either. 
The third tip I have for you is to use padded envelopes whenever possible. Using the previous example we can assume that rubber worms will not get damaged in transit. You can fit a package of rubber worms in a small padded envelope for half the cost of shipping a box. 
These black padded envelopes can be picked up for .17 cents apiece. That's very cost effective if you ask me.
After you have squared away your packaging it's time to move on to the next step.
Step 5: Advertising and Promoting Your Fishing Business
Now that we have decided what we will be selling, how to package it, where to sell it, and how to shop for the best rates possible, it's time to advertise and start selling. You will need to set aside a budget for each month that will be used for advertising and promoting your fishing product. I usually spend 50% of my net profit on advertising. Let me explain a few ways to advertise that have worked well for me in the past. 
How to Advertise Your Fishing Business
Advertising can be done in a number of ways. The easiest way is to sponsor your listing on platforms such as eBay and Etsy. For a small fee, you can have your listing placed in a premium location when a user searches a specific quarry. Etsy for example will have you designate a dollar amount that you want to spend each day on one listing. 
Say I want to spend $2.00 per day on a particular listing. 
Next, you will choose how much you will pay for each click on an advertised or sponsored listing. 
Depending on the product .03-.10 cents for a lure will get the job done. 
Etsy will show your listing at the top of the page for anyone searching for fishing lures. If you pay .10 cents per click the maximum amount of clicks you will pay for in one day is 20. 
After $2.00 is spent on advertising for the listing each day you will no longer be shown in search as a sponsored listing. 
Another popular method of advertising is google ads. This method has been around for a long time and that's because it works really well. You can start running google ads in no time at all but I will warn you it's the middle of the road for advertising costs. 
Google is the number one search engine in the world, why not get your product in front of every angler that searches on it. They will have you set your budget as well, keywords that you want to advertise for, and design the type of ad you want to run. 
Figuring out Google is something that has to be tested and trialed. It takes some time to really get the hang of advertising on google. For this reason, I decided to not use it as much as the next method I am about to talk about. 
In my opinion, this is the holy grail of online advertising. Have you ever scrolled through your Facebook feed and seen an advertisement that catches your eye? Of course, you have, why can't that be your advertisement?
Facebook really allows you to target a specific customer. If you're selling fishing lures you can limit ads to men, between the ages of 18-35, that have interests in the outdoors, and live in a specific area of town. 
What this does is it gives you the highest chances of getting click through on your ad. After all, Facebook advertising is the most expensive. By narrowing down your audience you increase your click through rates dramatically thus increasing sales.
How to Promote Your Fishing Business
Promoting your fishing business is similar to advertising, the main difference being cost. The promotion of a product can be free of charge. Think of Facebook, Instagram, Twitter, Youtube, Twitch, or even Pinterest. These social platforms are premium places to promote your products.
Influencers all over the world do this daily and you will have to also if you want to see results. Posting to social media is recommended 1-5 times a day for optimum results. The ability to stream live from social platforms has really helped influencers gain an edge as well.
You don't have to come up with witty fun hearted content all day long just to be relevant. Take a shot or two of your day, pouring baits, designing cad drawings, your new 3d printer. Show the process of making your product, walk them through your day step by step.
Posting often is the key here.
Other Important Considerations
In addition to the steps outlined above, there are some other important considerations when starting a fishing company. These considerations will differ by state or country so make sure you check your local regulations and requirements.
Business License
Taxes
Market Saturation
Sustainability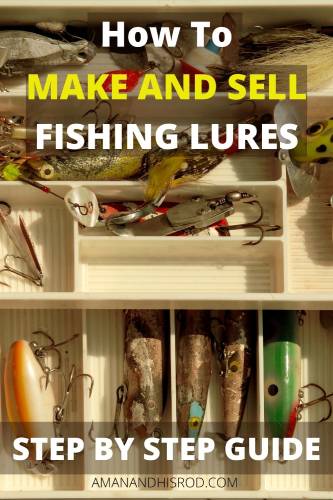 A business license is a good idea…. at a certain point. When just starting out it really is just a hobby for most people. They're looking to make a little side cash in order to support their hobby. There's nothing wrong with this line of thought. Eventually though, if you always think of your business as a hobby… it's always going to be a hobby. If you get to a point where you are investing large sums of money, liability issues, employees, or sales start picking up, it's probably a good idea to get a business license.
Taxes are the next thing you may have to consider. I'm not a tax expert so I won't pretend to be. The bottom line is if you make profits from your company you should be paying taxes on them. On the reverse side of that though, if you operate at a loss you may be able to show a loss on your taxes. If you're ever in doubt please don't take my word for it here. Contact a tax professional for expert advice.
Market saturation may be an important indicator of sales potential. A lot of people are pouring and selling soft plastic lures right now. It may be difficult to carve yourself a spot in that sector right now. But, if you are able to buy a decent 3D printer and make something that others can't or are not, then your odds increase dramatically of finding success.
Make sure that whatever product you bring to life has a sustainability aspect to it. Will your product be relevant in 5-10 years? If yes then great, get to work. If the answer is no, then you have to hit the market hard while you can and know the life expectancy of the product.
Final Thoughts on Starting a Fishing Business
No matter what product you choose to create and sell, make sure you are passionate about it. You will find that hard work is an ingredient that will pay off every time.
As an angler, you have different experiences than I do as an angler. Your experiences may lead you to create a product that nobody has thought of yet. Tap into that potential and act on it. Using the steps outlined in this article you should be able to navigate the initial challenges of starting a fishing company.
Know somebody that may like this article? We would appreciate it if you share it with them on social media. This lets us know that we're making content that our users want.