The leaves have changed color and fallen, temperatures are dropping and the winter bass fishing season is upon us. The way you have caught bass all year is about to change drastically!
Once the winter months come around, the bass fishing tactics and styles you have been used to all year now have to change and you must adapt to how bass are reacting in colder waters.
By knowing how the bass are moving and what you as an angler can do to target them, your winter bass fishing mission can be a success.
Here is our guide to winter bass fishing!
This website is reader supported. Any purchases you make through links on this site earn us a commission at no additional cost to you. Thank you for your support!
Where do Bass go in Winter?
Because air temperatures have dropped, the water temperature is doing the same. Bass become far more lethargic and are changing their normal patterns. Here are a few paces to target winter bass.
1. Deep Water Pockets
In lakes, bass will move into the deepest areas. While down there, they often group up into pockets. The pockets will be made of many fish, some who are more aggressive than others.
If you have a boat, it isn't too hard to figure out where the deep spots are and how to access them. If you are a bank fisherman, your at a bit of a disadvantage, but it's no where near impossible.
In these deep holes, bass will congregate around structure, just like they do in any other season. They aren't just out in the open, so if you know there are certain brush piles or pieces of structure in deep areas, target those.
Although bass almost always are attracted to the deep holes, the colder weather makes them stay down there rather than coming up on the shore.
2. Rocks and Rock Piles
Rocks are possibly the best feature to key in on while winter bass fishing. Outcroppings of rock always provide protection for bait fish… but we already knew this. In addition to that, rocks near the surface can provide warmth on a sunny winter day.
I like to find an area like a long stretch or rocky shore line or rip rap. Bass will move up real close to these rocks on sunny winter days.
Throwing lures right against the shore can prove to be advantageous. If fishing form a boat or kayak, get right up close to shore and make almost parallel casts to the bank. This will leave your lure in the strike zone for longer periods of time.
3. Vertical Deep Water Structure
Vertical deep water structure can be something like a dock, cliff, or tree. Something that moves from deep to shallow quickly. This allows the bass to move up shallow for short periods of time.
As the cold winter days go on, bass may become active during a window of sunlight. During the warmer parts of the afternoon, try these areas to catch a lot of bass fast.
4. Main Lake Points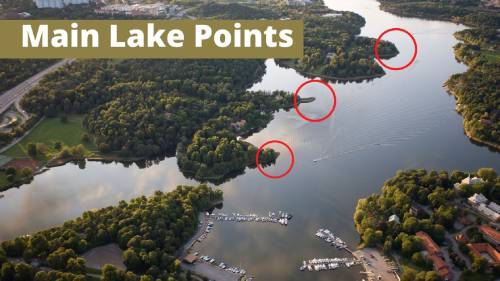 Main lake points tend to be a focal point for many winter bass fisherman. Simply put, main lake points tend to be near the deepest water. Main lake points have the ability to encompass the other 3 areas previously mentioned all in one location. For this reason these points are typically well known and will be labeled on some fishing maps specific to that lake.
RECOMMENDED ARTICLE >> Bass Fishing Basics, 7 Tips Every Beginner Should Know
Best Time of Day for Winter Bass Fishing
In just about every other season, the best fishing times are usually early in the morning or as the sun is going down. This is especially the case in the summer where midday temperatures can skyrocket. Targeting the bass at 7 a.m. or 6:30 p.m. can provide huge results when the weather is warm.
This whole strategy changes when winter rolls around. Mornings are frigid and the sun is setting far earlier than we would like it to. To get the best possible outcome, you need to find a time that works best with the winter climate.
In a majority of areas, the best winter bass fishing time will be between 1 and 3 p.m. This will be the warmest point of the day and in peak sunlight time. These times could vary slightly based on your geographical location, but this range is generally a good starting point in most areas.
The warmer it is during the day, the more likely lethargic bass are willing to move around and look for their next meal.
When the bass are few and far between, optimization is your biggest priority. A lot of winter fishing is being in the right place at the right time. The margin for error is shortened, so picking the right time of day to go fishing can be a huge difference maker.
Do yourself a favor and check the weather prior to hitting the water. This may give you some insights to when the fish will be most active. This is not to say bass will not eat during the colder time frames, just that your chances of success are better.
https://www.pinterest.com/amanandhisrod/bass-fishing/
Techniques to Catch Winter Bass
The key to targeting bass in winter is to slow everything down. These fish are not as fired up as they are in the warmer months. Bass are far more likely to not chase down burning moving baits like spinners or crank baits.
If you are working a lure too fast, there is a decent chance the bass won't even take a look at it. So, you have to get used to being slower than you may be comfortable with.
Bass are cold-blooded, their bodies adapt to their surroundings. You want to make it as easy as possible for the fish to eat.
The other big part of cold water bass fishing is patience. You have to be both mentally and physically patient.
On the physical side, you can't expect a plethora of bites all the time. Bass require less food because their energy Output is lower, they don't have to feed as much. It is your job to find that small window and take advantage of it.
A great technique that focuses on patience is known as "dead sticking." Dead sticking is the ultimate test of your patience as it involves literally not moving the bait for much longer than you think you should.
This is easiest with a football jig or stick baits. The technique is to cast the bait into the strike area and let it sit. You don't want to move it at all besides some small twitches here and there.
Another example would be a dart head with a rubber worm. Rubber worms are great baits to use during winter as they can be fished painfully slow. Use natural colors for best results.
Winter Bass Fishing from Boats
Believe it or not, how you fish in the winter does make a difference. If you have the luxury of using a fishing boat, there are a number of tools and strategies at your disposal.
The most obvious, and arguably the best tool, is sonar and fish-finding technology. If your setup has it, use the technology to your advantage. This will make it easy to find deep holes and brush piles, both of which are bass havens in the winter.
Another huge perk to using a boat is access to spots where bank fishing is impossible. This includes, bays, cuts, secluded areas, and the middle of big lakes. You have far more mobility when you can survey bodies of water and go wherever you want to.
Many anglers are turning to kayaks as an alternate way of getting above the fish. Kayak fishing has become all the rave over the last 5 years. Anglers are able to get onto the water without a boat ramp, access areas larger boats cannot, and have the ability to sneak up on the fish because they are more quite.
Bank Fishing for Winter Bass
Although it seems like not having a boat is a disadvantage at first thought, that isn't always the case. There are perks that come with bank fishing.
The biggest one is having the best access to the shoreline. Especially with river fishing, it is beneficial to cast out and reel toward the bank than the opposite. This can only be done when standing on the bank. This will target fish that are in the depths and bring them toward warmer waters toward the shore.
Another perk is access to smaller bodies of water. Fishing small ponds can harbor huge bass. Ponds receive far less fishing pressure compared to lakes. You will likely present a lures to these fish that they have never seen before. Take advantage of these situations.
RECOMMENDED ARTICLE >> Best Bank Fishing Bait to Catch Fish!
Best Lures for Winter Bass Fishing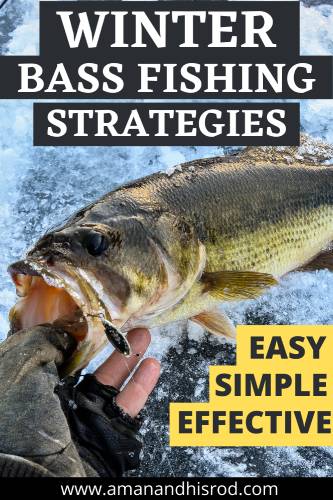 Now that you understand what the bass are doing and why, it all comes down to how you actually catch them. After all, none of this would matter if you are not equipped to catch these bass.
There are a number of lures that jump out as great options for cold weather fishing. Each one touches on a different section of the market and are fairly affordable. Here are our top recommended bass fishing lures to use this winter!
In no particular order, here are my favorite baits to fish for winter bass.
1. Crankbait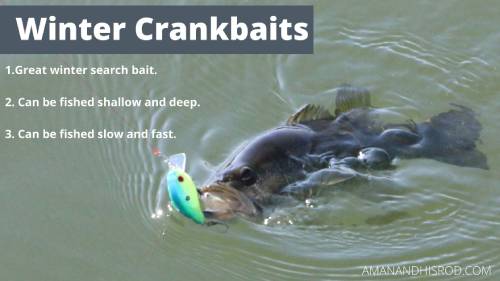 The crankbait is arguable the best search bait for winter time bass fishing. Particularly the deep diving crankbaits like the Norman DD22 or the Rapala DT16 have worked vary well for me in the past. I love fishing these crankbaits along deep ledges for aggressively feeding bass.
Try also fishing crankbaits along rocky banks when the sun is out. The rocks will heat the water ever so slightly. Us anglers may not be able to feel a difference in water temperatures but the bass can. It these situations I like a good lip-less crankbait that acts erratic.
Lastly, I will almost always use a square bill crankbait when I see wood or lat down structure in the water. The square bill allows the lure to swim over the wood without the hooks getting caught up. Something like the Strike King 2.5 square bill crankbait will work perfectly while bass are shallow during winter.
RECOMMENDED ARTICLE >> Fishing Crankbaits for Bass
2. Jerkbait
One of the best lures out there for cold water bass is a jerkbait. More specifically, suspending jerkbaits really do the trick in this situation.
Why are jerkbaits good in cold water?
Jerkbaits can be fished in a multitude of ways. They are not worked like spinner baits or crankbaits. The twitching motion makes the lure go slower and act like an injured fish.
Suspending jerkbaits are the preferred strategy with lethargic fish. Use these jerkbaits on very cold days when there is cloud cover or chop on the water.
Typically I use floating jerkbaits while trying to stay above structure such as grass.
When it comes to jerkbaits there is no equal to the LuckyCraft Pointer. Every bass fishing angler has some of these in their arsenal….. just ask them. The action and color choices are what set these baits apart.
RECOMMENDED ARTICLE >> How to Fish Jerkbaits for Bass
3. Stick Baits
As stated above, dead sticking is an excellent tactic for winter bass fishing. This is usually done by fishing weightless senkos or soft stick baits. However, this isn't the only way to use stick baits.
One of the best presentations in all seasons is the weightless wacky rigged stick bait. As this bait slowly works its way down the water column, bass can't resist. To fit this specifically for the winter, adding a light weight to it can still preserve the action while it also gets the bait into those deep holes quicker.
Another way to fish a stick bait is with a Texas rig. This can be both weightless and weighted. Either way, this is a great tactic to be weedless and sneak into the brush very easily.
Finally, a senko can be thrown on a shaky head and offered to a cold-weather bass that way. This will get your bait deep into the water column and keep it there for as long as you need.
TIP: Twitching your stick bait and giving it action will fire up the fish that may not bite otherwise.
4. Spinner Baits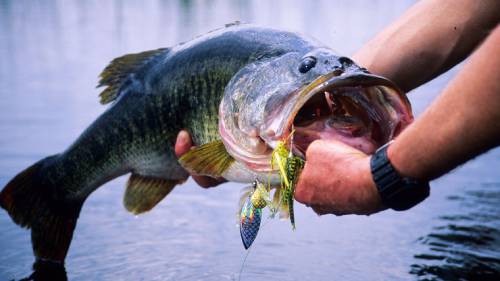 Although a lot of moving baits are really hammered in the summer, spinner baits are great for winter bass fishing.
Burning a spinner bait can be great way to fire up fish in the warmer months of winter. Since the temperature is colder and the bass aren't as motivated, you need to change your approach.
Slow rolling spinner baits is an excellent tactic as well. You may even need to crank the reel slower than you are comfortable with, but you have to do everything in your power to make it an easy meal for the bass.
The key is to get the spinner bait deep in the water column and slowly run it over the bottom's structure. This will be slow enough for lethargic bass to take a look and maybe take a bite.
To add even more action, throw a trailer on the hook. You can use a paddle tail swimbait to take the action up a notch. I like using the Keitech Fat Swing. It's a 2.8 inch swimbait that has incredible actions.
5. Jigs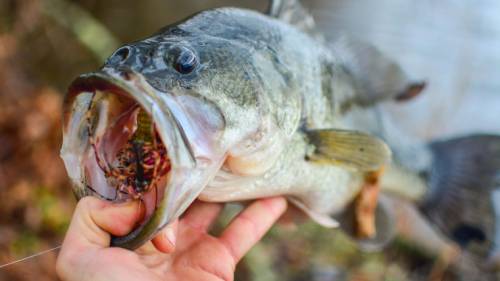 Finally, we have jigs. Jigs are used to catch bass all year long and winter is no different. There are a number styles of jigs on the market, finesse, swim, flipping, and casting are among the bass jig types. However one of the best for cold weather is the football jig.
A football jig gets its name from the head of the jig being in the shape of a footall.
Why do football jigs catch winter bass?
I believe it's the bulkiness of the football jig that makes this lure so attractive. They can also be fished in every level of the water column.
The football head helps prop up the jig so your trailer will float upward and sit up while sitting on the bottom. This is great in cold water because you are letting it sit for longer when the fish are more lethargic.
Jigs are also great in rivers do to the combination of current and structure. When fishing a jig in cold water, crawfish usually pose as the best trailer. Even just letting the jig sit upright with a craw on the back can completely turn your luck around.
Conclusion – Winter Bass Fishing
Obviously, there are far more lures and presentations that can be used in the winter, but these are some of the easiest and most effective to fit cold water circumstances.
Hopefully, you are now better equipped to tackle cold weather bass fishing that may have seemed so daunting in the past. Targeting bass is no longer just a summer activity and can be done at any time when the body of water is open. Happy fishing and good luck!