When you think of renown trout fishing, do you think of Missouri? The truth is Missouri has a great trout fishery for all types of fishermen to enjoy. In this article we will cover some of the best spots for trout fishing in Missouri as well as some tips for success. 
While wild trout are not native to Missouri they were introduced in the early 1980's. Since then tout have flourished and the state boasts a healthy population of both rainbow trout and brown trout. 
A large majority of Missouri's trout population is maintained through regular planting and stocking programs. Missouri's Trout Parks attract anglers that wish to put a healthy meal on the table, while offering numerous rivers and lakes as well. 
You can find more about Missouri's Fishing Regulations on their website. 
Methods of Trout Fishing in Missouri
The state offer a plethera of ways to catch the best tasting fish Missouri has to offer. Depending on where are when you are fishing, you may want to consider the following options in order to fill your fishing stringer.
Pole and Line – This is you standard fishing pole, reel, and fishing line. Typically fished with live bait or artificial lures.
Trot line – Trot lines are used long spans of fishing line usually stretched across a river or creek with other lines that lead off of them with hooks. Trot lines allow you to fish with multiple hooks.
Throw line – Throw line is a line that can be thrown or slung and pulled in by hand.
Limb line – Limb Line is a fishing line attached to a limb and dangled into the water with a hook and bait on the other end.
Bank line – Bank line is any fishing line that is used from the bank.
Jug line – Jug line is a fishing line attached to a floating jug that then has line entering the water with a weight at the most distant point and a hook.
Trout Parks in Missouri
Missouri has many trout parks available to anglers that are regularly stocked. In addition to that, Missouri also has numerous privately owned trout parks located throughout the state. Trout parks can offer a great opportunity to catch some really nice fish. 
Trout parks will have special seasonal or permit regulations so doing your research before your trip in order to be prepared when you arrive is paramount.
While some trout ponds can offer a quick limit do to sheer numbers, others that are larger can pose a little more of a challenge. A lot of anglers looking to fish trout ponds are trying to food on the table. 
Here are a few methods of fishing stocked trout ponds. 
Baits for Fishing Trout Ponds
Using Bait when fishing in Missouri is allowed in most areas. Certain zones and private lakes may have specific regulations. 
Common rigs for trout fishing in Missouri include natural and scented baits, artificial lures and flies fished on a fishing rod and reel or fly rod.
Natural Baits such as worms, minnows, frogs, eggs, and larvae (as well as others) are acceptable forms of bait in most places. Findind these fishing baits can be bought at local bait and tackle shops. 
Fishing with natural baits can be done in a number of ways. Baits such as minnows, worms, and grubs are used fishing a float or bobber. Fishing with floats or bobbers offer a visual indicator to a fish eating your bait. 
Sometimes during warmer weather you may want to fish near the bottom where the water is cooler. In times like this your weighting your line in order to hold it in pace on the bottom. 
Consider using baits such as crawdads, minnows, worms, powerbait, and eggs for bottom fishing. If you would like more tips on how to catch trout, check out trout fishing for beginners.
Fishing Gear for Missouri Bait Fishing
For starters you will need a fishing rod and reel. Personally, I like am ultra-light or light action fishing pole while fishing for stocked trout. Something like the Ugly Stik Elite Spinning Rod will do just fine. 
Ugly Stik Elite comes with a 7 year warranty and they stand by it! I have only broke one Ugly Stick in my days, and they replaced the rod no questions asked.  
When it comes to fishing line and what to use, I suggest something light to match the rod and reel above. For finicky trout I suggest 4 lb Fluorocarbon. In the Missouri trout lakes you can get away with 8-10 lb Monofilament also. 
What's the difference between monofilament and fluorocarbon? Well, the difference in composition, density, buoyancy, toughness, and visibility just to name a few. 
In addition to your fishing pole, reel, and line, you will need all of your terminal tackle as well. Hooks, weights, swivels, bobbers, stringer, and a net. 
While this may seem like a lot of fishing gear and money, it does not have to be. For less than $75 you can be catching trout all over the state with great effectiveness.
Artificial Lures Fishing
Lures are considered artificial bait. and are a general term for materials that are combined to attract a fish' attention by imitating natural food sources. 
Trout fishing lures consist of spinners, minnows, crankbaits, spoons, jigs, frogs, and so many more. 

Fishing a lure is simple really. You make a long cast and retrieve your lure through an area called the "strike zone" hoping to entice a strike. 
Knowing when fish are feeding and most active will bring you the most success. Early mornings and evenings are typically the best times to catch trout. 
These are peak feeding times generally and offer the best odds of catching fish. 
Knowing the best trout fishing lures is also a major factor for catching trout. Here are my top 5 trout fishing lures that absolutely crush fish!
One lure that is not on that list but is quite lethal in parts of Missouri is the bucktail jig. A bucktail jig is a small jig, I prefer white, that you bounce off the bottom while retrieving. 
Not only do trout love these jigs, but other species do as well. I have caught trout, bass, and bluegill fishing these jigs. 
Still not sure what to use to catch Missouri trout?
Too many choices that you don't know where to start?
SECRET TROUT FISHING TIP: Have no fear, I have just the thing for you. There is an artificial bait that has both a visual stimulant like a lure and a scent as if it were natural bait. Names afrer their appearence, Mice Tails by PowerBait offer an excellent option for rainbow trout.
Mice tail may not be used in the Red or Blue ribbon areas as soft plastics are not permitted.
Trout just love these things. Don't just take it from me, pick some up and try it for yourself. 
Now if you are still looking for even more of a challenge then fly fishing is the technique for you. 
Fly Fishing in Missouri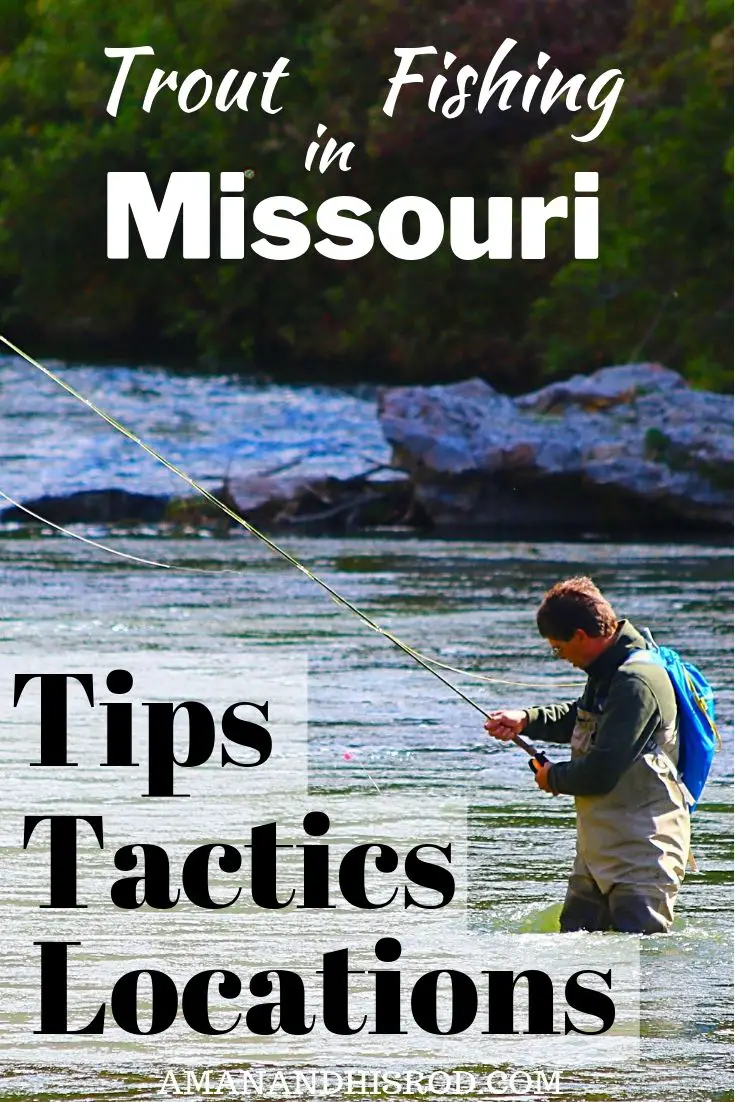 Fly fishing has been around as a technique for Thousands of years. Today fly fishing is more popular than ever and Missouri is no exception. 
Fly fishing is very rewarding as you must make very precise casts and present a small artificial fly to a fish without spooking it. 
One can fly fish in lakes, rivers, streams, creeks, and yes, even stocked trout ponds. 
oftentimes, fishing lakes and ponds are considered to be stillwater fly fishing. Because the water does not readily "flow" in or out. Fly fishing stillwater for trout is easier than one might think. 
Here are some stillwater fly fishing tips to catch more fish.
Fly fishing creeks, rivers, or streams present more of a challenge. The water flow means that we must cast above our holding areas and allow the fly to drift into the "strike zone".
Here are a few tips for fly fishing small streams, rivers, and creeks in Missouri. 
Best Fishing Spots in Missouri
Here are a few of the best sport to trout fish in Missouri. Of coarse there are many great spots and I'm sure you may have a few of your own.
11 Point River
This river has everything you could want in a fly fishing environment. Wandering through the Mark Twain National Forest, the cold spring fed waterway is ideal for trout. Typically, Fish can be caught on both natural and artificial baits except in the Blue Ribbon Trout Area where on flies and artificial lures may be used. 
The upper sections of 11 Point offer fantastic smallmouth bass fishing. From Thomasville to Greer Spring is 17 miles. This section offers an abundant amount of smallmouth bass. Try fishing with carnkbaits along this stretch. Target deep pools and structure for the best results. For fly fisherman I like terrestrials and stimulators on the surface.
Once you get to Greer Spring the water becomes much colder. This is far more conducive to trout. This section begins the blue ribbon trout area and special regulations apply. Using indicators or hopper droppers can be lethal. Some angler have even had great success Czech nymphing.
North Fork White River
This section of river is a fantastic place to catch fish. This fishery has both a red ribbon area and blue ribbon area. In fact, its the only stream in the entire state that can say that. The North for of the White river is a destination spot for fisherman.
The Red Ribbon area means that you may use artificial lures or flies only. No live bait or soft plastic fishing lures are allowed. You can take 2 fish of 15 inches or larger. Chances of catching a toad of a brown trout in this area is high. Trophy hunters will often use larger nymphs and streamers in this area to entice the larger fish.
The Blue Ribbon Area also requires the use of artificial lures and flies only. This area starts at the Rainbow Springs outlet and continues 7 miles to Patrick Bridge. Dry flies can call in the trout most of the year. Pay attention to any current hatches going on. Another fly that works great here are the midges. There is almost always some kind of hatch going on.
Maramec Spring Park
Maramec Spring may be the best park for trout fishing in Missouri. This privately owned trout park is open to bait fisherman, lures, and of coarse fly fisherman. The park is stocked each night to ensure plentiful trout for anglers. There is a fee to park and special requirements change throughout the year. The scenery here is top notch and the fishing is not bad either.
There are plenty of deep pools to fish as well as a few riffles. Slowly striping in stone flies is a safe bet. You will need sinking line or at least sink tip. If you want to brave the crowds Maramec Spring is a great trout park to try.
The trout park eventually wanders into the Maramec River where a great fishery begins. There are some great access points along this stretch. If you really want to have success on this river it is worth hiring a professional to guide you.
Final Thoughts
If there is one thing I want you to take away form this article its that Missouri is one great fishery for trout. There is something for everyone in Missouri.
I would truly appreciate your support if you have enjoyed this article. If you would kindly share to your favorite social media platform I would be grateful.
As always check out my other article here on the blog. Trout fisherman or bass fisherman I have something for you.
Do you have anything to add to this article? let me know in the comments below any tips you have for trout fishing in Missouri.